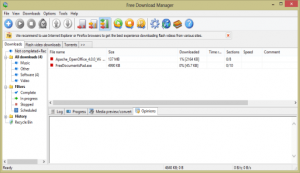 I, like many users, favour Google Chrome as their standard web browser of choice, and who can blame us, the new iteration currently ranks highest in startup and navigation time. There is a downside to using it, though. It probably has the worst download management out of all the top browsers. Not to pick on Chrome, however, because most browsers could have better integrated download management. Until that time happens when browsers up their game in download management, applications like the Free Download Manager have a gap to fill.
What Is It and What Does It Do
Main Functionality
Free Download Manager is a free web download management tool for Windows. What that means is it plugs into your browser to reroute and manage your downloads. You can pause, stop and continue your downloads in a batch or one by one. It also comes with a great list of auxiliary functions that the average user may never use but still makes you proud to be part of the open source community.
Pros

A great myriad of tools and functions
A great online community to share suggestions and opinions with
Integrates well with a variety of web browsers
Organizes your downloads according to type and records a history for each download
You can dictate how much bandwidth and traffic it uses
You can use it to download from multiple servers and choose how many connections you want for each download
You can use it to manage torrent downloads
Has a great list of settings and options, which can be used to optimize it to run on your computer.
Very intuitive for its primary use (Download Management)
Easy to upgrade and update
Runs under an open source license (GNU GPU) so for all you programming enthusiasts, you can download the source code and manipulate it to your own whimsy
You can do a virus scan on downloads after downloading them or as you download them.
Has an extensive scheduler and history archive
Has a tip bar for help and support
Has a Lite version for people who don't need as many features and run on less powerful systems
Cons
The full version is very heavy on memory and will slow down your start up times
Can seem very clunky in comparison to paid options
Does not always work as it should, sometimes downloads aren't redirected
Browser integration could be better, a pop up would be a better prompt than a web page that tells you that Free Download Manager is handling your download every time
It does not have the best looking user interface and its auxiliary functions can be unintuitive.
Discussion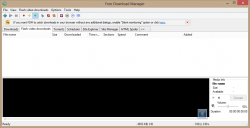 It has a light installer standing in at about 7,37 MB. It's a standard installation with no registrations needed, all it asks is if you agree to the usage standard and agreements, if you'd like to allow it to run on Windows startup and its location on your PC. You can go through the entire installation in less than a minute.
If Free Download Manager is properly installed and integrated with your web browser, it will handle the majority of your file downloads. In usual a case, it will only handle the download from a link on a page i.e if there is a link to a file on a page and you click on it, your browser and Free Download Manager will usually redirect you to a page informing that the download was transferred to Free Download Manager and you have to click back to navigate back to the page you were browsing on. You can also download files from URLs using the user interface. It will run as a background app that launches itself on Windows start up.  It's not just a simple download manager though, it will also optimize the speed of your downloads, you can use it to configure or connect to your dial up connection, watch and convert media, download flash videos, handle torrents, schedule future downloads, it has a site manager and explorer where you can copy a URL from a web page and it will display a list of downloadable files, pictures and folders. You can create a portable version that can be run from a flash and does not need to be installed. I'm not sure if it will run without your antivirus software complaining but the functions are great, varied and waiting to be explored. It has your standard local Windows help references and online help on their website if you should need any details of its running.
As previously discussed, it's an open source software with an active community so if you have any major complaints about it, you can fix them yourself or send in your 2 cents via email or the hub located on the user interface. In the future, Software like this may become redundant as web browsers implement better download management. Apparently, the copyright has existed since 2003(that's 10 years) and you can see by all the extra features it has, that it's ready to evolve. It's quite large, ambitious and inspiring for such a completely free piece of software. Even though the downloads on the website, cater to Windows, I would not be surprised to find a Linux version floating around somewhere. It should be easy to port on to a mobile platform if need be.
Besides a web page prompting you that Free Download Manager is now handling your download, the entire user interface pops up along with a dialog that allows you to alter the URL, where you want to place the download, check if it's been marked as malicious by the Free Download Manager community, alter and add mirror URLs, choose whether to save the file temporarily and open it or save it permanently. You can choose to generate your own file name from this dialog or generate it automatically. You can also choose to start the download manually, automatically or schedule it after you have cued it. A comment can even be assigned to each download.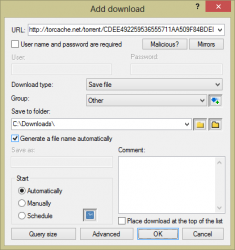 From then on, you can manipulate your download from the base UI, where you can add more mirror URLs, check the status, check the amount of server connections it currently has, add more comments, cue more downloads etc.
You can also change the UI skin which I assume is a new feature because I could only find two skins (Default and Classic). You can change the language and there are over 30 languages to choose from.
You can choose to hang up from your dial up connection, exit the application and/or shutdown your computer when all downloads are complete.
Conclusion And Download Link
All in all, Free Download Manager is a great testament to community and home brewed freeware software. With a plethora of features backing it, I can see it surviving another decade. Ambitious and inspiring, the majority of its bugs come from it having to conform to the dynamic of ever-changing software and the multiple browsers it has to support; that, of course, doesn't excuse the bugs but does leave the door open for continuous improvements. Free Download Manager may not be as good as its shareware competition who have better browser support, but a large community keep Free Download Manager relevant and striving. Though it lacks largely in aesthetics, it packs a punch in functionality. It definitely deserves a look at if you're in the market for a download manager. Check it out.
Price: Free
Version reviewed: 3.9.2
Supported OS: Windows XP, Vista, 7, and 8
Download size: 7.37MB
VirusTotal scan results:
Is it portable? Yes
Free Download Manager homepage
Related Posts