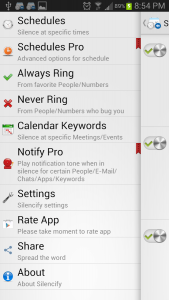 Are you frequently bothered by the fact that you cannot properly put your phone to silent mode? Yes, you may be allowed to completely switch your phone to silent profile but that also means that you won't be able to hear any important calls especially when you're in the midst of doing something very important. Now, what if there's an app that could let you customize your phone's silent mode settings? Well, that's what the Silencify app is for. So let's find out if this app is indeed useful enough to prevent you from missing your very important calls – even if your phone is on silent mode.
What Is It and What Does It Do
Main Functionality
Silencify is a free silent mode scheduling application for Android. With the help of this app, you can easily set a scheduled time for your phone to be automatically switched to silent mode. Not only that, this app also features a couple of special options that you can use to sort out the phone numbers that you would want to put into your whitelist or blacklist. For example, you can set a particular number to bypass all of your current sound settings. So even if your phone is on silent mode, any calls that you would receive from that number will always ring.
For starters, you can begin by setting a new schedule that would allow you to automatically silence your phone during a specific day or hour. To do this, simply launch the app then swipe its home screen to the right so that you could access its control panel. After which, go to "Schedules" then click the "add new schedule" button (the button that is located on the top-right corner). Set your preferred settings then press "Save". Once enabled, your phone will automatically shush your phone during those specified hours.
Pros
Easy to use, neat interface
Unlimited schedules – there is no limit to the number of schedules that you can create and modify. Just make sure that your schedules won't overlap.
Always Ring and Never Ring options – these options will allow you to customize the phone numbers that you want to add or remove from your whitelist and blacklist. All of the numbers that you will put in your blacklist will be automatically shushed. On the other hand, the numbers that you will put on your whitelist will always ring even if you've already switched to your phone's silent profile.
Regularly scans your calendar for any specific keyword – by setting a "calendar keyword", you can automatically turn off all of your calls and notification alerts.
Silence at specific locations – just add a location and then the app will immediately shush your phone every time it senses that you are on that specified location
Custom user profiles – you can customize the app's default settings according to your own preferences
Cons
None that I can think of but there are certain settings and options that are only available to Pro users. This includes creating schedules with advanced settings, customizing notification tones for certain people, chats, apps and a whole lot more.
Discussion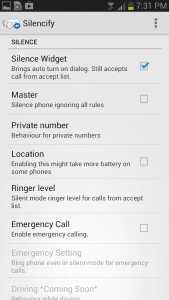 What's great about Silencify is that it is not only limited to silencing calls. It is also applicable for notifications. So whenever you switch your phone to silent mode, everything will be shushed except of course, for those numbers that you've specifically set to bypass your phone's current sound, alarm and notification preferences.
Another notable feature of this app is its ability to monitor your phone for any specific calendar keyword or location. The "calendar keyword" feature basically serves as a cue for the app to automatically switch from general to silent mode. So for example, if you've set the keyword "meeting with boss", the app will note every event or occasion in your calendar that includes the said keyword. So when that event happens, you do not need to manually switch your phone. It will automatically silence all of the calls and notifications. The same applies for the silence by location option. The only difference is that the latter will silence your phone whenever it detects that you're in that specified place or location.
Aside from the above stated features, Silencify also provides an option wherein you can specify the people that you want to add in your whitelist and blacklist. This is quite handy especially if you do not want to miss an important call or message or if you do not want to be bothered by a certain person.
So far, I haven't experienced any problems with this app. It does what it is intended to do. It is also very easy to use and it doesn't crash. Just keep in mind that there are certain features in this app that are only available to its paid users and this includes the ability to create schedules with advanced settings as well as the option for customizing your phone's notification alerts.
Conclusion and Download Link
Silencify is a good silent mode scheduling app and it is great for people who often forget to set their mobile phones to silent mode during an important meeting or class. Moreover, this app isn't difficult to use so it won't take a lot of time for you to get fully accustomed to its settings and features. So if you do not want to be bothered by those unexpected calls and messages, I recommend that you install this app on your Android tablet or smartphone.
Price: Free, Premium – $0.99
Version reviewed: 3.10.13
Requires: Android 2.2 and up
Download size: 2.7MB
Silencify -Smart Phone Silence on Play Store
Related Posts