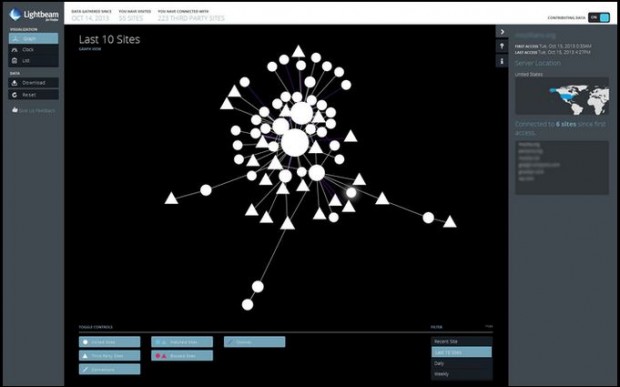 Ever wonder what cookies websites are adding to your computer when you're online? Ever wonder what websites are tracking your browsing habits and how? Well a new Firefox add-on by Mozilla is designed to help you learn just that. Lightbeam, the new add-on, is designed to tell you exactly how websites are tracking you.
This extension creates a graph of all the tracking cookies being added to your computer by websites. The user-friendly graph can help you differentiate between behavioral tracking cookies vs non-behavioral ones, which gives you an idea of what sites are using advertisements based on the behavioral tracking cookies.
Aside from graph mode, Lightbeam allows you to track your cookie additions two other ways, list and clock. When you look at the list view you obtain a list of sites that have added cookies to your browser and offers you the option to zoom in on a specific site. The graph view shows you each site you visited and the third party requests. The clock view shows you all of your cookie connection over a twenty-four hour period.
Aside from showing you information regarding tracking cookies, the information Lightbeam gathers from your computer is shared in a global database so that others can see how websites connect to each other via first-party and third-party cookies.
It should be noted not all cookies are bad. Cookies are a useful part of the world wide web and used to properly personalize user experience, such as store cart contents, set user preferences, and even autofill information. Lightbeam focuses on tracking cookies, to help you be aware of who is tracking you so you can be better prepared when you go online.
If you have Firefox, you can grab Lightbeam from Firefox's add-on repository.
[via ArsTechnica]
Related Posts