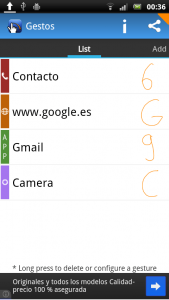 There are many ways to launch an app. Of course, the most common method is to launch it from your app drawer. You could also use shortcuts to launch your most widely used apps straight off your home screen. If you want, you could also make use of your phone's local search function. This option is quite useful especially if you are too lazy to browse your app drawer. Speaking of which, have you ever tried launching an app via gesture control? If you still haven't, then you might as well try this gesture-based app launcher called Gestos.
What Is It and What Does It Do
Main Functionality
Gestos is a free gesture-based application launcher for Android. It is a simple app that you can use and configure so that you can easily launch your apps via gesture-based controls. While there are already a couple of similar apps in the market, this particular app can also be used to lock and unlock your phone screen. You can also use this app to create gesture-based shortcuts for websites, switchers, system controls and contacts.
If properly configured, you can instantly launch any app, website or contact by double-tapping on your home screen. For starters, you need to create some new gesture controls for you apps first and once everything is set, simply double-tap on your home screen. Once you do this, a new semi-transparent screen will appear and all you need to do is to draw the correct gesture on the empty area. For example, if you've set the "C" gesture for your phone camera then you simply need to draw the same type of gesture every time you wish to open your phone's camera.
Pros
Simple and very easy to use, easy to configure
Can use gesture-based controls to launch applications, websites, switchers, system controls and contacts
Can use gesture-based controls to enable or disable your phone's lock screen
Configurable user settings – you can enable or disable some of the app's built-in features in just a few clicks
You can hide or show the overlay button – this small triangular button is mainly intended to provide quick access to the app's gesture drawing area but the app can still work even if this option is turned off
Easily recognizes simple gesture-based controls plus each control can be customized and modified according to your own preferences
Cons
When drawing or creating gestures, the line that you make must be continuous – you cannot create gestures with broken lines but you can create gestures like smileys, you just need to be quick especially when it comes to drawing the lines
Could have been even more better if there's a built-in password lock feature so that you can prevent others from modifying your gesture settings without your permission
Discussion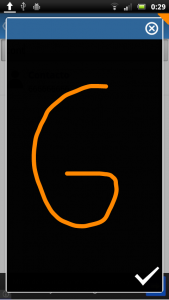 Gestos is a very responsive application and it is also very easy to use. The main purpose of having this app is to give you an option to launch or perform certain activities on your Android device without having to go through the hassle of searching your phone. It helps you save time since it offers a quick and easy way to launch apps and not just apps – you can also use it to access certain websites as well as those important settings for your phone.
What I like most about Gestos is that it has a slick interface. You can draw the gestures without having to repeat it over and over again just because the app couldn't recognize the gesture that you've drawn. Nevertheless, you still need to keep in mind that you should keep your gestures simple and easy to remember.
What's also great about this app is that you can easily modify the gesture that you made for a certain application. This option is really useful especially when you tend to forget the previous gesture that you made. As a matter of fact, this app features a list of all the gestures that you made so it's easy to modify or delete them whenever you want.
So far, I do not really have any serious issues with this app. I like the fact that it is very responsive and stable. Even so, I did notice that it doesn't really allow you to draw certain gestures with broken lines. So if you want to draw a gesture that looks like a smiley, you need to draw it very quickly or else it won't get recognized.
Moreover, it could have been better if the app has a built-in lock option so that you can protect the gestures that you have made from being modified or altered without your permission.
Conclusion and Download Link
I like Gestos. It is a very good gesture-based application launcher that doesn't just cater to applications — it can also be used to launch contacts, switchers and website URLs. I also did not find any serious issues that would make the app less appealing and functional, so I would highly recommend this application especially to those who are not really fond of searching through their app drawer.
Price: Free
Version reviewed: 1.3
Requires: Android 2.2 and up
Download size: 1.01MB
Gestos – Gestures on Play Store
Related Posts