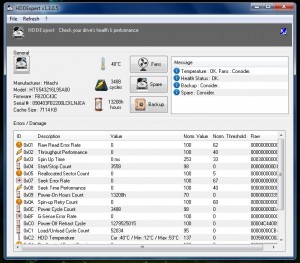 Arguably, one of the most important hardware components on any computer is the hard drive(s). The reason for that is because it houses all personal user data and system data. If a hard disk fails, you can lose a lot more than just the hardware component and it can lead to very costly consequences. That's why it's crucial you monitor system hard drives for performance and health whenever possible. HDD Expert is a free Windows application that allows you to do just that- monitor the health of internal and external hard drives connected to the system.
What is it and what does it do
Main Functionality
HDD Expert is a simple hardware monitor for connected hard disks. It essentially allows you to monitor and observe the health of a disk, giving you ample time to prepare if a failure is on the horizon. It's available in either a traditional install or portable package, depending on personal preference.
Pros
Hard drive monitoring tool and environment, with support for SMART failure early warning system
Displays pertinent information like operating temp, power cycles, operating hours and more
Offers simple suggestions for taking action like whether or not you should backup data, purchase a spare drive, or install a cooling fan
You can configure periodic update intervals or instantly refresh the data
Choose from multiple drives installed in your system
Has a portable version

For the purpose of this review, we are going to use the portable version of HDD Expert. However, we have scanned both the install package and the portable package through VirusTotal for your benefit (results included below). If you want to download the portable version, make sure you click the link indicated by the compressed archive instead of the blue download button (pictured to the right).
Cons
Doesn't provide any suggestions and tips as to what the data it gives you means — it is up to you to interpret and understand the data
No realtime notification support, would be nice to see if you decide to leave the app running in the background
SMART drive data listed under the label "errors/damage" which can be misleading
Does not offer support for external flash drives (no data collection)
The developer of HDD Expert bundles Revelant Knowledge and other bloatware with all of his programs. HDD Expert is one of their newer programs and it appears that Relevant Knowledge and other bloatware is not yet included with the progrma. However, the developer may add Relevant Knowledge or bloatware the future, so when installing HDD Expert keep your eyes open. You can always get the portable version of HDD Expert to avoid Relevant Knowledge and other bloatware when (if) they are added.
Discussion
During first run, the application will populate the listboxes with information about your hard drives. It should be noted that this application is fairly simple in nature since it's merely designed to offer you info you can use to assess your next move. It would be nice to see realtime notifications about connected drives if you leave the app running, but nothing like that has been implemented as of yet.
At the very top of the window, you will see general information about your drive like manufacturer, model, firmware, serial number and cache size. You will also see the current operating temperature, number of power cycles, and total hours of operation. You can cycle between multiple drives using the radio buttons at the top left of the window- indicated by hard drive icons.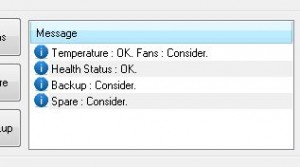 The messages in the upper right box, suggest actions to take in regards to the displayed hard drive. As you can see from the screenshot, the app has informed me that the running temp of my drive is acceptable yet I should consider purchasing an additional fan. It also told me to consider a backup or installing/keeping a spare hard drive around. The latter option has clearly been suggested because my drive has been in operation for an extended period of time, and we all know the longer a drive has been running the more likely it is to see a failure.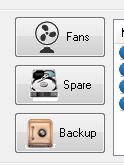 The "fans" and "spare" radio buttons that you can see in the window take you to Amazon where you can purchase the related hardware. As far as I can tell, they are not affiliate links of any kind to generate revenue for the developer, but such a scenario shouldn't be ruled out- it's still possible that's what is happening. It looks more like the links just take you to search results for the related hardware.
The "backup" radio button will take you to the developer's website where you can download data backup software. Since I'm not reviewing that software currently, that's the only mention I'll make of it.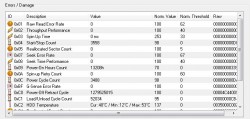 The "errors/damage" window is inappropriately labeled, at least I think so. That window displays SMART information about the selected drive, which are good to have but SMART doesn't actually reveals damage or issues with the drive directly, but they can serve as indicators. You can read the values in detail if you know what you're looking at, or you can trust the applications suggestions about the different readings. It's obvious that an older drive like mine is going to return a lot of flags or indicators, because naturally- well… you get it.
In addition, you can control the refresh rate of the application by choosing instant refresh or configuring periodic refresh intervals. Other than that, there's really not that much else available. You can look at a text based log, but it doesn't include any relevant information pertaining to the drive readings- all of that is viewed right through the main app interface.
HDD Expert is certainly minimal when it comes to system resource usage, as it only eats up about 2MB of RAM while running. The fact that it's offered in a portable version adds to that portability immensely.
Conclusion and download link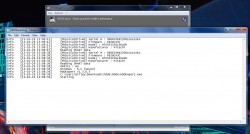 HDD Expert is a decent and portable application for monitoring hard drives. It isn't a tool tailored for use by everyone, as you need to be able to interpret the info to understand whether a drive is healthy or not. But for those that do understand the information it passes on to you, HDD Expert is a valuable tool.
Furthermore, HDD Expert is minimal in terms of RAM usage and it's completely portable. If you just want to get an idea for how well your drive is running, or want a quick look at some potential signs of failure, this app can offer that. Just keep in mind, that it will be up to you to interpret the data correctly. The app does not spell out clear indicators for a potential failure. Though it does offer simple suggestions, like whether or not you should backup data, purchase an additional cooling fan, or acquire a spare drive.
If you are a non-technical user, you will be better suited to a more user-friendly application like HDDScan or Acronis Drive Monitor.
Price: Free
Version reviewed: 1.3.0.5
Supported OS: Windows 8/7/Vista/XP
Download size: 1.20MB (install), 540KB (compressed portable), 1.23MB (unzipped portable)
VirusTotal malware scan results: 0/45 (install), 0/46 (portable)
Is it portable? Yes
Related Posts