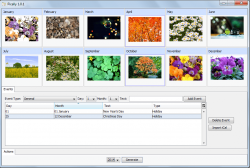 Wouldn't it be great if you know how to create your own custom calendar? After all, you can easily make one for as long as you have the right software. So instead of ordering online, you can just make your own. You can even choose the photos that you like to include as calendar covers. Speaking of which, there is this free custom calendar maker that you can use to generate a personalized photo calendar. It's called Pically and it lets you save your printable calendar in PDF format.
What Is It and What Does It Do
Main Functionality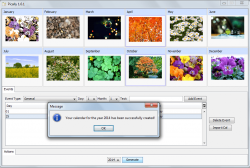 Pically is a free calendar maker that you can install on your computer. It currently supports Windows XP, Vista, 7 and 8. If you want to install it, you better make sure that your computer has the latest version of Java.
What Pically does is that it lets you create your own photo calendar. So instead of paying someone to design your calendar, you can just select the photos that you want to use as calendar covers and then you simply drag and drop them in their corresponding months. After that, you can also add your personal holidays and special events (ex. your birthday) and don't forget to set the year of your calendar. Once everything is all set, click the "generate" button and the software will automatically save your custom photo calendar as PDF. You're then free to print your calendar on any type of paper.
Pros
Simple and user-friendly interface
Drag and drop feature
You can choose the photos that you want to add in your calendar – one photo for each month (a total of twelve photos for one calendar)
You can add your own events and special occasions such as your birthday, your friend's birthday, your anniversary date, etc.
Provides an option for you to import your iCal files into your custom photo calendar
Saves your printable calendar in PDF format
Cons
There's only one calendar template that you can use plus the default setting for the first day of the week has been set to Monday – you cannot change its default settings
The available calendar years are very limited – you can only create calendars for the year 2011, 2012, 2013, 2014 and 2015
You cannot change the calendar's font style, font size and color scheme
Discussion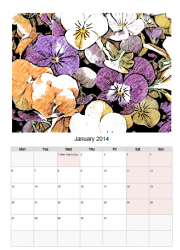 Pically is a very simple photo calendar maker so you cannot really expect it to offer something that is already beyond what it is intended to do. Nevertheless, it is a very reliable software and it is great for people who are interested in creating their own printable calendars.
What I like about Pically is that it isn't difficult to use. It supports drag and drop so it is very easy to place the photos that you want to include your calendar. Apparently, you will need one photo for every month and it would be best if you could use a landscape-oriented photo instead of a portrait one.
It is also important to note that this printable calendar maker features a very simple user interface that supports drag and drop. In other words, there's no need for you to go through all the hassle of searching for the photos that you want to add. Just drag and drop the photos into their corresponding months and that's it! There are no tricky settings that would only make you feel more confused. Everything is presented in a simple and straightforward manner.
Aside from the above mentioned features, you can also customize the dates in your personalized calendar. So if you want to highlight those special dates and events that will occur throughout the entire year, you're free to include them in the calendar. As a matter of fact, this software will also allow you to import your iCal files.
While majority of this software's features are noteworthy, there are certain features that this software lacks. For example, it only has one template and you cannot even customize its template's color scheme and font. Aside from that, the available calendar years are only limited to year 2011 to 2015. There's also no option that would allow you to change the first day of the week into Sunday.
Conclusion and Download Link
Even if this software lacks in certain aspects, it is still very reliable. It basically does what it is intended to do. Just don't expect too much from it since it can only generate a simple calendar design. Even so, I would still recommend Pically. It may be simple but it can certainly do the job. Check it out if you need this sort of functionality.
Price: Free
Version reviewed: 1.0.1
Supported OS: Windows XP, Vista, 7 and 8 (requires Java)
Download size: 4.9MB
VirusTotal malware scan results: 0/45
Is it portable? No
Related Posts