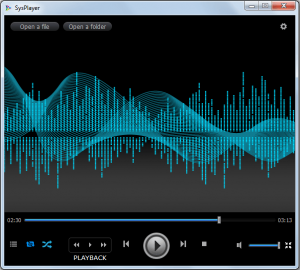 There are already a lot free media players in the market today so you might think that having another one would only add up to the pile of useless and impractical software that you have. Anyways, this reason alone won't stop this lightweight media player from trying to make its appeal to you. As a matter of fact, SysPlayer will try its best to convince you that having another one on your list could actually make a difference.
What Is It and What Does It Do
Main Functionality
If there's one thing that you should at least know about SysPlayer, it is basically the fact that it is fast, lightweight, responsive and very straightforward. It won't give you features that will only take up space. It is very easy to install plus it already has some built-in codecs that's needed to play almost any kind of media files. Speaking of which, its current version supports today's most widely used audio and video formats such as MPEG, MP3, AVI, ASF, WMV, WMA, MP4, MOV, 3GP, OGG and a whole lot more.
After installing the software to your computer, simply launch it from your desktop or program files then you're all set to add and play the songs that you like. You can even add videos. This software can perfectly load your movies and music videos without any annoying glitches or bugs. To get started, simply drag and drop the media files that you want to play and the media player will automatically play the first track on the list. You can also use its built-in controls to manage your media files.
Pros
Easy to use, lightweight, very responsive, simple yet attractive UI
The media player window can be easily resized and dragged to any area
Supports drag and drop – just drag and drop the media files that you want to play on SysPlayer and it will automatically play the first track on your now playing list
Can play a lot of media file formats (audio and video) – supports MPEG, MP3, AVI, ASF, WMV, WMA, MP4, MOV, 3GP, OGG, OGM, Annodex, MKV, WAV, Raw Audio: DTS, AAC, AC3/A52, Raw DV, FLAC, FLV, MXF, Nut, Standard MIDI / SMF, Creative™ Voice, etc.
You can create, save, edit and load playlists
Features advanced playback features such as playback speed control, repeat track, repeat all tracks, shuffle, show/hide playlist, volume control, play in full screen, take video screenshot and a whole lot more
Cons
You cannot minimize the media player to the system tray area, which would be nice for audio use
There's no option that will allow you to view the playlist and the actual media screen at the same time
The user settings button doesn't work
VirusTotal has come back with an unusually high 5/47 rating. A 5/47 probably means false positives but, still, proceed at your own risk.
Includes bloatware during install — be very careful
Discussion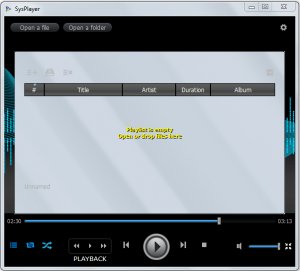 SysPlayer is a simple, fast and straightforward media player that can play a lot of media file formats. This makes it stable enough to play your favorite songs and videos plus it also features a modern-themed UI with advanced playback controls.
With this software, you can easily drag and drop the media files that you want to play and it will immediately play them all. By default, this software will play the first track that is listed on your playlist but you can easily change it by pressing the next media or previous media button. You can also click the song that you like to play first. What's good about this software is that its controls aren't that difficult to figure out. You can easily tell which is which just by looking at control buttons that are located in the media player's control panel.
Another thing that I like about this software is that it is resizable and you can easily drag it anywhere. It's non-obtrusive plus it is very stable. I also like the fact that this software supports playlists so it's so easy to create a collection of songs or tracks that you want to play over and over again.
All in all, I can say that SysPlayer is a good and reliable media player. It's not that impressive and it certainly cannot surpass the quality and functionality of those premium media players out there but if you just want to keep things simple and straightforward, you might as well opt for this kind of media player.
Nevertheless, there are certain features that this software lacks that could definitely affect its usability and performance. For example, it lacks the option that will let you minimize its window to the system tray area. Aside from that, it does not let you view your playlist as well as your media file at the same time.
Conclusion and Download Link
I would recommend SysPlayer only if you do not have a decent media player on your computer already or if you're actually looking for a backup media player. Why? It is a straightforward program that is unlikely to cause you serious media playback problems, but it doesn't offer you anything unique that you can't find elsewhere. Still, a good program that is worth looking at if you are looking for a replacement or are yet to decide on your favorite media player.
Also be sure to check out dotTech's review on best free video players for Windows.
Price: Free
Version reviewed: 1.0.0.12
Supported OS: Windows XP, Vista, 7 and 8
Download size: 820KB
VirusTotal malware scan results: 5/47
Is it portable? No
Related Posts