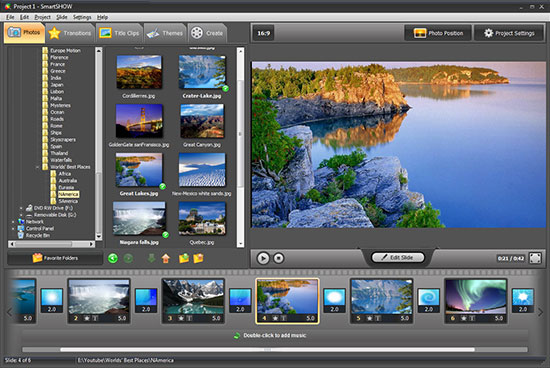 Have you ever wanted to present your photos in a remarkable, not that boring Facebook-scrolling way? Creating a splendid slideshow is an answer, however you need to find an appropriate app.
This may become a problem, as a lot of software lacks certain features, has bugs or costs tons  of money. If you are looking for a program that is packed with features yet easy-to-use, try SmartSHOW, the slideshow movie maker by AMS Software. You can download it from this website: http://slideshow-maker.com.
Easy to Learn and to Use
SmartSHOW is an application that allows you to create animated slideshows from an unlimited number of photos. The first thing you see is a straightaway and plain interface. It's made in mild gray tones so your eyes won't get tired during the work.
The wizard allows you to make a slideshow in 3 steps: pick a themed template, add the photos, choose a soundtrack – a bit of editing and it's ready for exporting!
Powerful Editing Options
The slideshow movie maker allows you to edit your project from A to Z. Start with adding title clips – choose from a lot of themed static or animated titles or create your own. Add or modify captions – for sure you'd like to introduce or comment the slides. Arrange the slides the way you want by simply dragging them.
To make the slideshow vivid and dynamic apply transitions – there are over a hundred to pick from for any theme or pace. Emphasize certain details or moments with artistic effects – pan&zoom, rotation and various color effects will certainly spice up any slideshow.
Even a spectacular slideshow won't be that great without music so it's natural to add a suitable soundtrack. You can add an unlimited number of music clips, cut them, sync with the slides, loop or shuffle.
Huge Export Capabilities
What's the point of making a slideshow if you can't share it? The slideshow movie maker can export your project to all popular video formats – AVI, MP4, MKV, WMV etc., including Full-HD. There are lots of presets for different devices – smartphones, tablets, game consoles and media players. It comes handy if you happen to work with a lot of gadgets.
Make a video for the Internet without any trouble: there are presets for all the popular video hosts – YouTube, Facebook, Vimeo etc. If you have your own web-site, make an FLV video. And last but not least, you can create a screensaver or an EXE-slideshow as an electronic gift or burn a DVD-disk as a personal gift.
Conclusion
All in all, SmartSHOW is a handy slideshow-making tool. It's easy to master, has a lot of editing and exporting options. What's worth noting is the affordable price for the capabilities given: for $29 you get the complete set of features needed for making a slideshow with music and effects; for just $10 more you'll get an extra set of 130+ spectacular decoration themes. And no need to hurry buying – download the free trial for yourself and have a lot of fun making beautiful slideshows!
Related Posts