Forget the fact that "going green" is now the cool thing to do. Just think about saving money. iPrint is a very simple software which helps users reduce printing costs (developer claims printing costs can be reduced "by up to 60%") by using some smart – yet simple – page and ink saving techniques. More specifically, iPrint allows users to easily specify pages to print – as opposed to printing all the pages, even the useless ones –  and allows users to print 2 or 4 pages on one sheet instead of the traditional 1 page per 1 sheet.
iPrint installs as a virtual printer on your computer. Since it installs as a printer on your computer, you can use iPrint for printing from any program including your browser, word processor, etc.
Whenever you want to print something you just print like you would normally (i.e. for Firefox just go to File -> Print). When the printer menu pops up just make sure to select "iPrint" as your printer:
After install iPrint gives you the option of making iPrint your default printer, most application will already have iPrint selected (assuming you set iPrint as your default printer).
Using iPrint is very straightforward. You just print like you normally would (i.e. click on the print icon, go to "File" ->" Print", etc.). When you print, the iPrint program pops up:
From the program window you basically can do two things:
You can "delete" pages. Don't worry – you are not literally deleting the pages. By "deleting" pages you are basically telling your printer not to print them. All you have to do is simply double click on the pages which you do not want to print. These pages will then turn red indicating that they will not be printed. You can "delete" multiple pages at once – just hold down SHIFT or CTRL while selecting the pages and hit .
You can choose to print 1 page per 1 sheet, 2 pages per 1 sheet, or 4 pages per one sheet.
Then, once you have setup how you want your pages to print, just select the printer you want to print at from the top right…
…and print. iPrint is as simple as that. If you want more detailed information on iPrint, including dotTech's view of the software, feel free to read dotTech's full review on iPrint.
Watch the following short 1 to 2 minute video by the developer to see iPrint in action: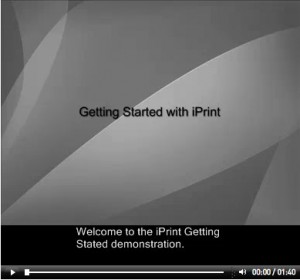 To view the video click above. If you have JavaScript disabled you will not be able to view the video by clicking above so instead click here.
Of course some people may already have the functionality of iPrint built into the software that comes with their physical printers. However, if your printer does not have that option, or you like doing virtual printing (i.e. printing to PDFs) a lot, iPrint is a very handy tool everyone should keep in their arsenal. Since iPrint is now freeware (free for any use – business and personal), you really have nothing to lose. You may download iPrint from the following link:
Supported OS: Windows XP, Vista, Windows 7

Version reviewed: v6.0.0.2475
Related Posts