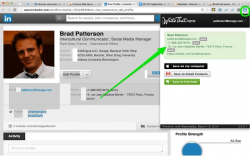 The Internet is filled with many valuable resources such as your favorite restaurant's address and contact details. So when you use the net to search for specific information, you usually write them down or save them to your clipboard. Now, what if you need to search and save hundreds of contact numbers and emails? You will definitely need a hassle-free way to update your address book. In this case, you might want to check out this handy extension for Chrome called Evercontact.
What is it and what does it do
Main Functionality
Evercontact is a handy extension for Chrome that lets you "grab" contact details from various websites and automatically add them to your Gmail address book (Google Contacts), Outlook, Evernote as well as to Salesforce. This means that instead of writing down the contact details on a piece of paper, you can simply highlight the contact details directly from the webpage and then you click on Evercontact to analyze and extract the necessary details that you want to get from that specific page. After which, the extension will prompt you to save the contact details to your Gmail address book, Outlook, Evernote, etc.
Reminder: By installing this extension, you will be allowing it to access your data on all websites as well as your tabs and browsing activity. You also need to need to log in to your Gmail account before you can save your contacts to your address book, etc.
Pros
Simple and easy to use
Very accessible – you can easily access the extension by right-clicking on your browser's context menu or by simply clicking the extension's shortcut icon that is located right beside the Chrome menu icon
Hassle-free – no need to copy and paste, no need to write down notes
Automatically saves the contact details (ex. email address, fax number, phone number, office address, etc.) to your Google Contacts (Gmail address book), Outlook contacts, Salesforce and Evernote
You can also opt to download and save the contact details to your computer in vCard form
Cons
You are only allowed to "grab" the first 42 contacts for free. After which, the extension will automatically prevent you from adding more contacts. If you want to continue using the extension, you need to subscribe to Evercontact's Premium plan for a yearly fee of 35 USD. This plan can only be availed if you opt to use Evercontact for Gmail.
Does not support other browsers such as Firefox, Opera, Safari and Internet Explorer
Discussion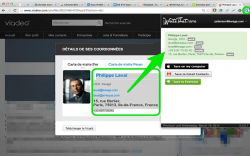 Evercontact for Chrome is a reliable extension that you can use to easily grab and add contacts from various websites to your online address book such as Google Contacts (aka Gmail Contacts) and Evernote. Aside from this, you can also opt to save your contact's details to your computer as vCard or you can save it to Outlook or Salesforce.
Basically, this extension is designed to provide you with a hassle-free method of adding and managing your contacts. So instead of manually typing down the contact details, you can simply highlight the information that you want to get from a specific page and just let the extension do the rest of the work.
Say, for example, you've stumbled upon this particular restaurant on TripAdvisor. If you want to use the extension to get the contact details and address of that restaurant, all you need to do is to select or highlight the contact details from that page then right-click your mouse to view and select the extension from your context menu. After which, wait until the extension could successfully extract the contact details from that page then fill in the empty fields such as your contact's first name and last name. Once done, select the option that states "Save to Gmail contacts". You can also opt to add more services such as Evernote and Salesforce.
All in all, I can say that Evercontact for Chrome does its job well. It's so easy to use and so far, I haven't experienced any serious issues that would cause my browser to lag or force close. Just keep in mind that if you are not subscribed to the Premium Plan of Evercontact for Gmail, you will only be allowed to add and update your first 42 contacts for free.
Conclusion and download link
Evercontact for Chrome is a simple yet very handy tool that will help you manage and update your contacts in a more efficient manner. It's just that the number of contacts that you can add is limited unless you're willing to pay for a yearly subscription. So if you really want to enjoy the full benefits of this extension, I suggest that you use Evercontact for Gmail then upgrade to its Premium subscription.
Price: Free for first 42 contact updates; Premium users ($35 per year)

Version reviewed: 2.0.1.4

Requires: Google Chrome on any desktop operating system (Windows XP, Vista, 7, 8, Mac OS X, Linux)

Evercontact on Chrome Web Store
Related Posts