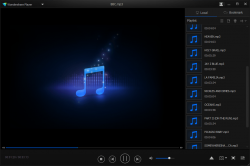 Now that you may or may not have re-compressed your AVI files with AVI Recomp, you may be wondering if there is a great alternative to playing your multimedia files. If I had to answer that question, I'd have to give you a big yes or a sarcastic 'duh!', depending on my mood. The internet and developer sites are over-saturated with multimedia players. It surprises me that some developers will even try to release a paid version of a multimedia player. I still use Windows Media Player 12 even with Windows 8.1. If it ain't broke, why fix it right? Its not as if I haven't tried any of the alternatives out there. I've played around and used many multimedia players – I wont advertise any of them here but for now lets shed the spot light on the Wondershare Player.
What Is It and What Does It Do
Main Functionality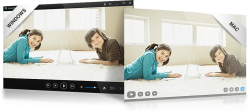 Wondershare Player is a multimedia player that supports a wide array of audio and video file types. It has Windows, Android, and Mac versions. We specifically tested the Windows version of this review.
Pros
Supports dozens of video and audio formats; see chart to the right for more detail
Supports both SD and HD videos
Plays offline files and offers plugins for Chrome, Internet Explorer and Firefox for online clip playback and stream
You can bookmark your online videos and play them back from any device that runs the software
Has several effects and filters to customize playback
Aesthetically pleasing and easy to navigate user interface
Light weight on memory
Extremely fast start up time and video load time
Allows you to take in-application snap shot pictures of the clip you're watching
System tray minimizable
You can load ASS, SSA and SRT subtitles while watching videos
Excellent video quality
Cons
Has a couple of bugs and really bad error handling
You cannot play online clips directly from URLs
You have to register an account with Wondershare in order to bookmark your online clips and this also means that the user has to fork over his/her email address
User interface skin can not be changed or customized
Discussion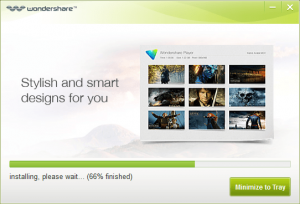 I hate, hate, hate individual software download managers. It feels like I'm sleeping with a woman of questionable repute. You don't know if you've caught something or unintentionally signed up for some bloatware and browser search engine. Most downloaders will download the setup files as temporary files so if you want to install the software on multiple PCs, you'll have to waste a little bandwidth. When I downloaded the setup files from the website, I realized that the size of the install file was just under a mega byte which contradicted the file size info on the home page. I knew what would happen next. I'd click on the 'setup' file and go from page to page, ticking on usage agreements and trying not to sign up for some browser plugin or bloatware. To my surprise, the downloader and installer did not ask me to do much, it just downloaded and installed the software. It also saved the setup files in my 'Documents' folder. This was quite refreshing. Wondershare is known for its professionally presented pieces of software, whether free or paid. It's multimedia player is no exception.
After install, its audacious enough to include its own shortcut on the Windows taskbar. What you're presented with when you run it is a beautifully designed marble like user interface. All the controls lie as bare as possible. You can access the playback menu by either right clicking the video or using the top left drop down menu next to the Wondershare player and logo. From here, you have the standard playback list of menu items such as what file you'd like to open to play, how you'd like the player to present itself during playback, what you'd like the player to do after it finishes playback, playback speed, the audio track, subtitles, playback speed,you can also bring up the file information and a host of other customary bells and whistles.
I really liked the 'After Playback' option which allows you to choose what happens to the player after its finished playing through a list whether its close the player, put the computer to sleep, shutdown, exit the player or the default do nothing. However neat this feature is, I expected it to perform the instruction after playback of a single clip but it plays through the entire list first. This cant be changed but the best way to handle this is to clear the entire list and play one video at a time. With each file you open, it saves it to the continuous playlist which acts as a playback archive of sorts. I didn't like this feature, I can see its usefulness but its a feature that I found annoying because of the required playlist maintenance. I'm lazy. These playlists can be saved, sorted and loaded. I just don't like the way it was handled. I could see a neater and more intuitive way that this could be handled. Its not a major flaw.
I found a few bugs. Sometimes when I try playing a file that may already be added to the playlist it will throw an error at me about an invalid floating point value. This is what we call an unhandled exception in software programming. It's forgivable in testing and beta but not in full releases. Another bug or feature that I found was that if I play a file or video in a folder it will load the entire set of videos into the continuous playlist and play the list from the first file and not the one I clicked on. This may have purposefully done but it was confusing at first.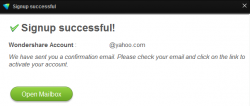 It comes with a browser plugin. Basically with every video you play on the internet, it displays a set of icons that give you the options of either playing the video back from the Wondershare Player or bookmarking the video. In some videos this can be distracting. I wish that the player allowed you to play the video using the video's URL. The nice thing about it though is it seems to cache the video and saves it to its playlist. To Bookmark videos, you have to sign up for Wondershare's free bookmark service. This means that you have to register a profile with Wondershare's site using your email address which probably also means that you can expect to be spammed by Wondershare's latest releases in the future. The Bookmark service seems to work just fine. I tested in on two computers. I have to obviously be logged in to my profile before I can access my bookmarks. I don't see this as a major game changer. I think its one of those features I'll eventually forget about. It is a nice feature though especially if you stream a lot of videos online.
CONCLUSION AND DOWNLOAD LINK
Overall, Wondershare Player is a great media player. It has good features and works very well. Indeed, Wondershare Player warrants a try from any audiophile or video enthusiast. If you want or need it, check it out.
That said, the fanboys may crucify me for saying this because Wondershare Player has such a massive following and it is a great alternative to the likes of VLC and Windows Media Player, but I don't see it replacing those players on my desktop because I'm a philistine. I just don't see any major reason to get Wondershare Player when I already have a media player that supports all the media formats I want to play. Still, though, I planned on uninstalling it after I reviewed it but I might just let it stick around on my PC. As I said, it has potential.
Be sure to also read dotTech's review on best free video player for Windows and best free video player for Android.
Price: Free
Version reviewed: 1.6.0
Supported OS: Windows XP/Vista/Windows 7/Windows 8, Mac OS X 10.6/10.7/10.8/10.9, Android 2.2 and up
Download size: 17.2MB
VirusTotal malware scan results:  1/43
Is it portable? No
Related Posts