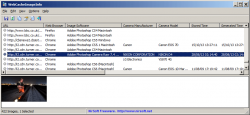 Surfing the web for various images is already a common thing for internet users. It's just that not all of these images are download-worthy but there are certain instances wherein you end up regretting the fact that you failed to download a particular photo or image. In this case, you might want to use a simple tool like WebCacheImageInfo to recover a bunch of important images.
What Is It and What Does It Do
Main Functionality
WebCacheImageInfo is basically a free software for Windows that is intended to scan your web browser's cache for JPEG images with EXIF details. After which, you will be able to view all of the JPEG images with EXIF data that were stored in your browser's cache. You then get the chance to view the detailed properties of these images such as the type of camera used to capture the image as well as the date and time that the image was taken or created, etc. In addition, this software supports a wide range of web browsers such as Google Chrome, Mozilla Firefox, SeaMonkey and Internet Explorer. What's also great about this software is that you do not need to install it on your computer. It's a portable application so you are free to use it on any computer.
Pros
Simple, easy to use, very stable
Neat and classic user interface
Automatically scans your web browser's cache for JPEG images with EXIF information
Compatible with today's most widely used web browsers such as Mozilla Firefox, Internet Explorer, SeaMonkey and Google Chrome
Configurable user settings – you can enable/disable the JPEG image scanning process in certain browsers
Lists down all of the copies of the JPEG images (.jpg, .jpeg) that were stored in your web browser's cache (preview included)
Shows valuable information about the images that you've manage to recover – this includes the following details: web browser used to view the image, image software, camera manufacturer, camera model, stored time, generated time, modified time, file name, file size, browsing time, etc.
You can copy and open the source URL of each image on your web browser. You can also download the results as .csv, .txt, .xml or .html
Portable – no installation required
Cons
The software does not work on Opera
In order to get a copy of the cached images, you must configure your browser to remember your browsing history
The software can only scan for JPEG images with EXIF data. It does not support other image formats such as PNG, BMP, GIF, TIFF, etc.
Discussion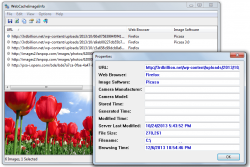 While some people may not appreciate the idea of using a software to scan and find cached images, there are also those who will definitely benefit from this tool especially those whose line of work are related to photography, graphic and print design, online marketing and website development. Even bloggers can benefit from this tool too!
While it's inevitable for WebCacheImageInfo to have its own share of advantages and disadvantages, what's important is that it is readily available and you can use it whenever you like. After all, this app is portable so you can just store inside your USB flash drive.
Functionality wise, WebCacheImageInfo is very easy to use. Its user interface looks neat and it is also very stable. Just remember to close or end your browsing session first before you use the software to scan for images. This is to ensure that all of the files will be successfully saved to your web browser's temporary storage. You should also remember that this software won't work on browsers with pre-configured clear cache settings. It is also not compatible with Opera.
Before using this software, make sure that you have configured your browser to remember your browsing history. After which, you can just browse the web like you usually do and once you're done, do not forget to end your browsing session. Now, if you want to use WebCacheImageInfo, simply extract its executable (.exe) file from its ZIP archive first. Once extracted, launch the .exe file then click the refresh button. The software will then show a list of its scanned images. Click any image to view its detailed properties. You can also download the results as .csv, .txt, .xml or .html.
Conclusion and Download Link
While I do not see myself using this software on a regular basis, I still find this tool very handy. As a matter of fact, you can use WebCacheImageInfo to review the images that you have viewed during a certain period of time. You can also use this tool to recover some images. It's just a bit disappointing to know that this tool can only show JPEG images with EXIF information. It could have been more useful if it can also scan for cached images with different formats.
Price: Free
Version reviewed: 1.05
Supported OS: Windows XP, Windows Vista, Windows 7, Windows 8 and 8.1
Download size: 77.6KB
VirusTotal malware scan results:
Is it portable? Yes
Related Posts