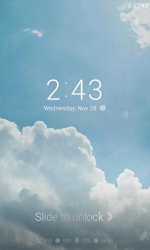 Would you like to make the most out of your smartphone's lock screen? If your answer is yes, then why don't you try using a better lock screen replacement app with lots of high-quality themes? If you still haven't found any, you can try Dodol Locker for Android. It's a fully customizable lock screen application for Android that supports widgets, app shortcuts and custom wallpapers.
What Is It and What Does It Do
Main Functionality
Dodol Locker is a free lock screen replacement app for Android that offers a wide range of unique and elegant lock screen themes. Every theme has a distinct feature. Some themes allow custom app shortcuts while there are also those that only allow custom wallpapers and widgets. At first launch, you will only have access to the app's default theme. If you want to use a different theme, you have to go to the theme shop to select the theme that you like and then you download that theme from the Play Store. Just like your phone's default system lock screen, you can also set the app to secure your lock screen using a secret PIN or pattern.
Pros
Easy to use, responsive and stable
Neat and well-designed user interface
Offers a wide range of customizable lock screen themes – In other words, you can change the default theme to dark theme, retro theme, blue sky theme and a whole lot more
Each theme varies in terms of design, layout and customization – some themes allow custom app shortcuts while some themes are only limited to custom widgets and wallpapers
Configurable settings – you can choose to enable or disable some of the app's features and options
You can secure your lock screen by adding a secret PIN or pattern
Can work as a standalone app – no need for you to install the Dodol Launcher
Cons
You cannot use a password to lock your screen – In terms of security, Dodol Locker only allows security PINs and patterns
Does not completely remove or replace your phone's default system lock screen – it will only put the new lock screen on top of your device's default lock screen
You cannot control your music player when your lock screen is enabled
Discussion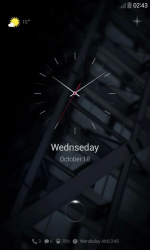 Dodol Locker definitely takes pride of its wide selection of high-quality themes. As I've already mentioned above, each theme has its own attributes. Some themes follow the usual "swipe to unlock" gesture control while there are also those that uses the "unlock ring".
When using the app for the first time, do keep in mind that you'll only get the default theme. To get started, simply launch the said application from your app drawer then press the menu key to view its main controls. In its menu, you will a list of available options. The "Theme" option is where you can view and download more themes from the Play Store. The "My Theme" option, on the other hand, is where you can access your downloaded themes. If you want to customize the elements that will appear on your lock screen, you can go to "Settings". As for the "Wallpaper" option, it is where you can change your current lock screen's wallpaper. You can choose from the app's list of available wallpapers. You are also free to use any of the photos or images that you have in your phone's media gallery.
Meanwhile, the "Widget" option is where you can choose to enable or disable some of the widgets. There are widgets for showing the time and date, weather, battery status, alarm, missed calls and unread messages. If you are using a different theme, ex. Dark Night theme, the app will allow you to create a bunch of app shortcuts. Just keep in mind that this feature is only available in selected themes.
In addition to the above stated features, Dodol Locker also allows its users to set up a security PIN or pattern. This option is quite useful especially to those who wish restrict anyone from opening their device without their permission.
All in all, I can say that Dodol Locker is a good replacement app for your phone's default lock screen. What makes it noteworthy is the fact that it lets you customize your lock screen theme. Even so, this app also has a couple of downsides. First of all, it doesn't let you use a password instead of a security PIN or pattern. Aside from this, your default system lock screen will still appear right after you've unlock your Dodol Locker. There's also no option that will allow you to control your music player straight off your lock screen. It is also important to note that you will be prompted to use the app as your default launcher but you're still free to stick to your phone's default home launcher.
Conclusion and Download Link
I've already tried a couple of lock screen replacement apps for Android but I can definitely say that Dodol Locker deserves a thumbs-up. It is a very reliable lock screen app with lots of visually appealing and customizable themes. It may have a couple of notable downsides but its pros have definitely outweighed its cons. You can check out this app by clicking the link below. Still not convinced? You might as well check out these other lock screen replacement apps for Android.
Price: Free
Version reviewed: 1.0.1
Requires: Android 2.3 and up
Download size: 4.1MB
Related Posts