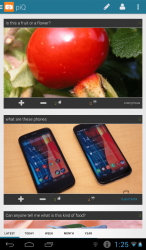 Have you ever come across an unfamiliar object or item and yet, it makes you want to know what it's called? I bet you have. As a matter of fact, this type of scenario is very common and some of you may have resorted to social media just to satisfy your thirst for answers. Well, guess what? With piQ, you may no longer need to stress yourself over the thought of not being able to tell the name of that food that you just ate for dinner.
What Is It and What Does It Do
Main Functionality
If you still haven't heard of piQ, it's basically a free question and answer app for Android that lets you ask questions with pictures. It is a community-driven Q&A platform wherein users are free to ask questions together with the picture of the object that they want to identify through the help of others. For example, you want to know the breed of your pet cat. All you need to do is post to piQ the question "What breed is my cat?" together with the photo of your adorable feline. Your question will then be shown on the public feed. If someone knows the answer, he or she can post the answer to your question. The answer will then be rated by other users and the answer with the highest positive rating will eventually be shown at the top of the answers list. It's as simple as that.
Pros
Easy to use, fun and innovative
Community-driven – users can post their questions but they can also post their answers to the questions posted by other users
Rating system – users are allowed to vote to the answers given by other users; they can rate the answers by giving a negative or positive vote
The questions are sorted out by categories – All, General, Medical/Body, Hardware/Tools, Nature, How to Use, Who Is This and No Idea
Users have their own public profiles – you will also get notified every time an answer has been posted to your question
You can post a question as a guest user
Cons
Lacks social sharing options – you cannot share the questions to Facebook, Twitter or Google Plus
You cannot sort the answers by date, popularity, etc.
Limited viewing styles – you cannot view the questions feed in list view or thumb view
It would be nice if the users could earn some badges or accolades
Discussion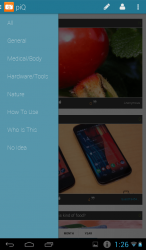 While there are already a lot of community-driven platforms that allows users to give answers or ask questions, piQ has decided to offer something that's unique and simple. It's concept of allowing users to ask questions with photos is a splendid way to explore and discover the things that we thought we knew yet – we don't.
What I like about this app is that it focuses on helping you find an answer to simple things that sparks your curiosity. It also encourages users to help others find the answers to their questions. Aside from this, the app also features a neat and responsive user interface. The questions are also classified by category so it is easy to find the ones belong to your area of interest. Users are also allowed to rate the question that you posted.
To get started, you'll need to sign-in to the app using your Facebook account. If you do not want to sign-in via Facebook, you can register as Guest. After which, you can navigate through the app's categories or you can simply browse through the questions that will appear on your feed. If you happen to know the answer to a certain question, all you need to do is to click on that question and then you post your answer right below the question. You can also click on the photo to view its full resolution.
So far, this app has done a good job presenting its concept and platform. It's still a new app so it may take a while before it gains a significant amount of avid users. Nevertheless, I find this app very useful and interesting and I'm looking forward to see its future updates and developments.
As of now, this app still has a lot of things that it needs to improve such as its lack of sharing options. It would be really nice if users are allowed to share their questions to other sites via short link or direct URL. It would also be nice if users are allowed to sort answers by date, popularity, relevance, etc. Apart from this, piQ users should be given the option to view the latest questions posted in the stream in different viewing modes.
Conclusion and Download Link
I like piQ. It's fun, interesting and unique. Instead of just asking questions by writing text, you can ask questions with photos. It's a great option especially if you want to identify a certain item or object. You can also use this app to ask people to teach you how to use an unfamiliar tool or equipment. You can also post questions that are related to nature, people, food and pets. So if you still haven't tried this app, you better check it out.
Price: Free
Version reviewed: 1.0.3
Requires: Android 3.0 and up
Download size: 1.7MB
piQ – Ask With Pictures on Play Store
Related Posts