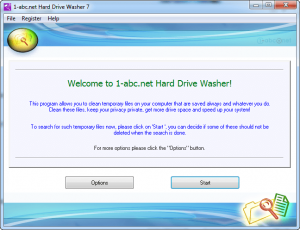 Programs leave behind temporary files. In many cases, it is recommended to delete those temp files. You can either do it manually or use a privacy cleaning/temp file cleaning program. dotTech has a review on the best free system/privacy/temp/junk cleaner for Windows. If you don't like our picks, there is 1-abc.net Hard Drive Washer. Let's see if it is worth your time.
WHAT IS IT AND WHAT DOES IT DO
Main Functionality
1-abc.net Hard Drive Washer is a temp/junk file cleaner for Windows.
Pros
Erases temp/junk files:

*._tm
*.1st
*.bak
*.nav
*.log
*.$$$
*.old
*.prv
*.??~
*.gid
*.tmp
*.syd
*.~*
*.~mp
*~.*
*.bk!
*.bk$
*.bk4
*.bk5
*.bk6
*.bk7
*.bk8
*.bk9
*.bkp
*.$a
*.$db
*.&&&
*.—
*._dd
*._mp
*.chk
*.xlk
*.db$
*.diz
*.dmp
*.err
*.ftg
*.fts
*.ilk
*.ncb
*.pch
*.sik
*.temp
chklist.*
mscreate.dir
pspbrwse.jbf
Thumbs.db
*.TMP
*.BAK
*.LOG
*.OLD
*.CHK
*.TEMP
*.DMP

You can add your own file extensions to erase
Allows you to customize the drive/partition and temp folder 1-abc.net Hard Drive Washer scans
Has an exceptions list which tells 1-abc.net Hard Drive Washer to never delete specific folders and files
Built-in scheduler for search for files every X days
Built-in backup feature that can automatically create copies of files before deleting
Performs a search before actually deleting anything, allowing you to review search results and discard any files you may not want to delete
Easy to use
Small download size, less than 500 KB
Cons
A $19.99 program that only deletes temp/junk files and has no other features?! Today isn't April Fool's, is it?
It is not clear if 1-abc.net Hard Drive Washer securely delete files or not. There is an option that says "Wipe instead of normal delete (slow, use with caution)", seemingly indicating that secure deletion is support. However, no real information is provided on if this is in fact secure deletion and what algorithm is used.
Developer claims "program can be installed on USB sticks, floppy disks or nearly all other re-writable media", seemingly indicating that, once installed, the program is portable. I tested this theory by installing/registering 1-abc.net Hard Drive Washer on one computer and then copying over the program to another computer. I learned that indeed the program is portable after being installed, but it doesn't appear to keep registration info inside it — when I copy + pasted the program from one computer to another, it did not carry over the registration info but rather asked me to register again. This tells me 1-abc.net Hard Drive Washer probably stores registration info in the registry of each computer it is run on, which is a terrible way of being portable.
CONCLUSION AND DOWNLOAD LINK
I'm going to be very blunt here. Why the hell would anyone want to get 1-abc.net Hard Drive Washer is beyond me; the program is severely lacking in features. I mean, come on — a program that costs $19.99 and its only feature is to delete temp/junk files? Honestly if I didn't know 1-abc.net was a legitimate company, I would say this is a joke. You are, of course, more than welcome to test 1-abc.net Hard Drive Washer yourself and purchase it if you like it (they offer a trial version, which you can use before purchase)… but I don't recommend it.
Instead of 1-abc.net Hard Drive Washer, I recommend you read dotTech's review on best free system/temp/privacy/junk file cleaner for Windows to learn of free and excellent cleans that will not only help you free up hard drive space but also protect your privacy.
Price: $19.99

Version reviewed: 7.00
Supported OS: Windows XP/Vista/Windows 7/Windows 8

Download size: 473 KB

VirusTotal malware scan results: 0/45
Is it portable? Sort of

1-abc.net Hard Drive Washer homepage
Related Posts