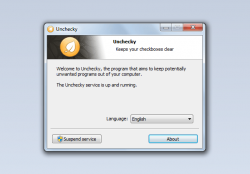 Are you annoyed by the fact that many of the software that you install are bundled with a bunch of totally unrelated programs and offers (otherwise known as bloatware or crapware)? It's like even if the software is labelled as free, once you try to go through its installation process, you are greeted by those annoying checkboxes — and sometimes even more nefarious methods, such as those that almost look like they're really part of the installation process so you wouldn't even think that they're unnecessary bloatware offerings. If you are sick and tired of experiencing the same dilemma over and over, you might as well try using this software called Unchecky for Windows.
What Is It and What Does It Do
Main Functionality
What is Unchecky? Well, it's basically a free software that is designed to automatically "uncheck" all third-party programs or applications or toolbars (bloatware/crapware) that is bundled with many software installers. With Unchecky, you do not need to do anything. Just install it on your computer and it will do the rest of the work: every time you install a program that comes with a bundled software, this tool will automatically unchecks those unrelated (and possibly unwanted) offers. It will also warn you if ever a software will try to push or sneak some additional programs as a part of the installation.
Pros
Automatically unchecks those boxes for bloatware/crapware — additional software installations, toolbars, special offers, etc.
Immediately warns you if ever a software will try to sneak some third-party programs as a natural part of the installation process (ex. those that are integrated with the Terms of Agreement page)
You can suspend or resume its service at any given time
Works on almost all types of generic software installers, meaning it works with most all software and their installers
Very easy to use
Cons
This tool will not protect you from all bloatware. As developers become more sneaky in their ways to monetize software installs, new and more clever/nefarious methods are being introduced. Unchecky will cannot and will not stop them all — it may miss some bloatware. Plus, Unchecky is not guaranteed to work with all types of installers. So don't go blind clicking "Accept", "Next", etc. thinking Unchecky is protecting you from everything. It will work for a good amount of bundled bloatware and toolbars, but not everything.
Is currently in beta. This isn't really a con per-se, but is worth mentioning.
Some anti-viruses may mark this program as unsafe. We feel these warnings are false positives because VirusTotal finds the program to be clean (1/48 results), but proceed at your own risk.
It would be nice if some sort of log or record was kept or notification shown of what Unchecky unchecks/stops, just so the geeks among us can verify what Unchecky is doing
Discussion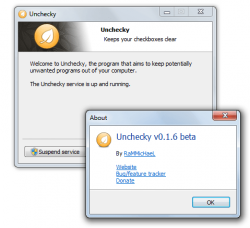 Unchecky provides a great solution for users who wish to opt out from those annoying offers that are usually included in majority of today's software installers. One good example of this is when you try to install a program that is said to edit photos and once you try to install it, you are prompted to click on a page that says "Special Offer" or "Recommended Software". If you're extra cautious, then you would probably scrutinize every page that appears in the installation wizard but nevertheless, there are those that will try to push you into installing the bundled software in any possible way that they can. This is very annoying and there's also a great possibility that the third-party software that you have accidentally installed could be flagged as a malicious program.
If you have Unchecky, you no longer need to manually uncheck those annoying checkboxes. This tool will automatically uncheck those unwanted offers that would usually appear while you're installing your software. Other than this, this tool will also give automatic warnings every time a software will try to sneak a third-party program into your software installation. There's also no need for you to manually update this software to its latest version. It will automatically update itself.
All in all, I can say that Unchecky does what it is intended to do. I've tried it on a couple of software that are already known to have some bundled applications and it really did "uncheck" and remove those annoying checkboxes for third-party programs and special offers. I tested it on Picture Cutout Guide Lite and it did a great job removing that window that prompts to install PC Speed Maximizer.
It's just that your Anti-virus program might flag this software as a potential threat to your computer but this is said to be a false positive result. It is also important to note that this tool may not be able to detect and uncheck those checkboxes that are usually shown in web browsers. Nonetheless, this software works fine on generic installers wherein the offers are presented together with the steps for software installation.
Conclusion and Download Link
Unchecky is a great program. Sure, it doesn't work with all bundled bloatware and toolbars that comes with software installers, but it works with many of them — and the program is only in beta right now, so it is bound to improve in the future. Overall, if you need assistance in avoiding bundled bloatware/crapware, such as third-party software and toolbars, then Unchecky is at your service. Go ahead and check it out.
Price: Free
Version reviewed: 0.1.6 beta
Supported OS: Windows XP, Vista, 7 and 8
Download size: 394KB
VirusTotal malware scan results: 1/48
Is it portable? No
[Thanks jimx29]
Related Posts