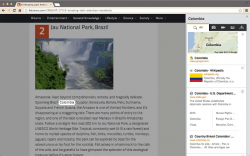 If you are an avid Chrome user, then you probably know that it has a feature that allows you to instantly search for a word or term without having to open a new tab for Search. You don't even need to type on its omnibox. Just highlight the word that you want to search, right-click on it then select the option that states "Search Google for – the word you want to search -". Sounds like an easy thing to do, right? Well, not quite. With Kikin for Chrome, you can search and receive instant results without having to leave the page that you are currently on.
What is it and what does it do
Main Functionality
Kikin is a free extension for Chrome that you can use to instantly search for something without having to navigate away from the page that you are currently viewing. With this simple and intuitive search tool, you can quickly search the web and receive instant search results. You can even opt to filter the results just so you could specifically search for word definitions, images, videos, news, maps and directions. To use this tool, just long-click or long-press on the word or phrase that you want to search and the results will be automatically shown on the right portion of the page that you are on.
Pros
Very convenient to use
Simple controls and intuitive user interface
You can filter search results to specifically show images, videos, maps and directions
You can instantly search for word definitions
Adjustable word highlighter – you can expand or narrow your search by adjusting the highlighter
Smart selection and smart search results – the tool will automatically analyze your word selection so you don't have to manually adjust it just in case you make some errors; it will also disambiguate the terms so the results are not only limited to a single meaning or description
Cons
Does not provide options for narrowed search results – for ex. search for images of dogs that were posted for the past year or month, search for wallpapers with a custom size of 800 x 600
You cannot use this tool to quickly translate foreign words or terms
Does not support other browsers such as Mozilla Firefox, Safari, Opera and Internet Explorer
Discussion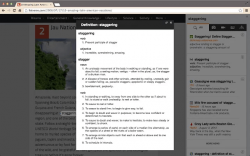 Kikin for Chrome is a splendid and very practical extension that any avid Chrome user can use to search for specific information, images, videos, news, maps and direction. It basically offers an even more convenient way of searching the web and it can be very handy especially at times when you do not want to navigate away from a specific website or page.
Say, for example, you're now reading this review here at dotTech and yet you want to get the latest news for "Chrome". If you are using Kikin, simply long-click on the said word and wait for the search results to appear on the right side of the page. You will then see a range of tools that you can choose to filter your search results. By default, you will see all of the results that Kikin has gathered from the web so if you want to narrow the results to news, just click on the news icon. You will then see the latest and recently published news about Chrome. The same goes for the other options. If you want to see images, just click on the icon for images and so on.
Another notable feature of this tool is its ability to show you maps and directions. There's no need for you to open a new tab or type on the omnibox just to view the map for Washington. Just click on the map tool and it will instantly show you the map of the said location. Once you click the map, a pop-up window will appear and you will be able to see its detailed information. You can also use this option to enable Street View and ask for specific directions.
All in all, Kikin is a great tool for optimizing Chrome's native search function. It is also very lightweight and it provides you with instant search results. Even so, it is important to note that this tool has its limits and you cannot use it to quickly translate foreign terms. It also doesn't provide you with options to narrow down your search results. You cannot also use this tool on other web browsers such as Firefox, Safari, Opera and Internet Explorer.
Conclusion and download link
Kikin for Chrome is very convenient to use. It doesn't lag, it is very responsive plus it gives accurate and smart results. It has its limits but considering the fact that it lets you search for information without having to leave the page that you are currently viewing, I can say that this tool is definitely worth checking out.
Price: Free

Version reviewed: 2.5.0

Requires: Google Chrome on Windows XP, Vista, 7, 8, Linux and Mac OS X

Related Posts