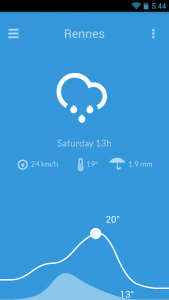 Not satisfied with your current weather app? Are you looking for a good alternative that could at least give you a more detailed weather forecast? Well, how about getting one that shows the weather forecast that is already good for five consecutive days? If you still haven't found one, you might as well check out this simple yet visually appealing weather application for Android called Nice Weather.
What Is It and What Does It Do
Main Functionality
Nice Weather is a free weather application for Android that is capable of giving you a five-day weather forecast. This application also features a visually appealing and intuitive user interface that provides you with detailed weather information that is based upon your current location. There's also a 3-hour interval for the daily forecasts. Apart from this, this app also shows the temperature, wind speed and precipitation.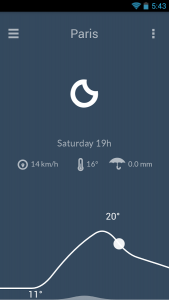 Pros
Visually appealing and intuitive UI – just swipe the screen to view the weather forecast for the subsequent days
Provides a five-day geo-targeted weather forecast – you are also given the option to use your phone's GPS to set your location or you can manually input your location
The daily weather forecast has a three hour interval where each forecast has a specific color – e.g. cloudy – grey, rainy – blue, hot – red, sunny – yellow
For every forecast, the app will display the wind speed, temperature and precipitation
Displays two interactive graphs so you can compare and visualize the change and evolution of the temperature and precipitation
Customizable display settings
Cons
Some of the app's features are not available for free users. You need to subscribe to the app's Pro version in order to avail the following features and options:

Widgets
Set multiple cities

You cannot opt to receive hourly updates
Discussion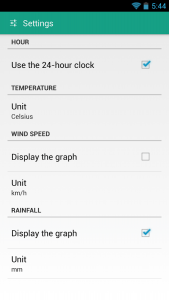 Nice Weather is a decent weather app that offers a five-day weather forecast with three-hour interval for daily forecasts. It also does a good job with its UI design. At first glance, you can easily notice the app's striking forecast colors. It is also very slick and responsive. You can easily view the subsequent weather forecasts by simply flicking through your screen.
Another important thing to note about this app is that it does not only give you an overview of today's weather. Per forecast, the app will display the wind speed, temperature and precipitation. It will also show you an interactive graph which displays the evolution of temperature and precipitation. This means that you can compare and monitor how the weather changes which, in turn, can give you time to prepare just in case the weather gets worse or if doesn't go according to your wishes.
What I like about Nice Weather is that its UI is really colorful so it is something that you would want to check as often as possible. You can also customize the units for the temperature, wind speed and precipitation. Other than this, the app lets you view the subsequent weather forecasts by simply dragging the pointer in the graph.
Appearance wise, I can say that this app certainly looks good. I definitely have no complaints about its looks. Functionality wise, this app seems pretty decent but it is not as detailed as AccuWeather. Yes, it does display the most essential elements that one needs to know about the weather but what if you want to delve more into the details? Can Nice Weather provide you with hourly weather updates with night and day comparisons, atmospheric pressure and even a detailed temperature record? Unfortunately, this app is not capable of doing these things. It is also important to note that the free version of this app does not support home screen widgets and multiple locations. So if you want to unlock these options, you need to upgrade to the app's full version.
Conclusion and Download Link
All in all, I can say that Nice Weather is a decent weather app. Its UI looks good plus it is very responsive and stable. It also displays the most essential elements that you need to consider when it comes to monitoring the weather. It may not be the best and the most detailed weather app in the market but it is still worth checking out especially if you aren't that finicky and you can actually pass the day with or without checking your weather app.
Price: Free, Pro – € 1.50/year
Version reviewed: 2.1
Requires: Android 2.3 and up
Download size: 2.1MB
Related Posts