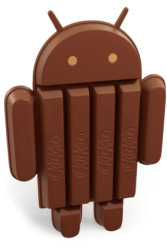 Android 4.4 KitKat, the latest version of Google's Android OS debuted on the flagship Nexus 5 smartphone a few weeks ago, and as is customary, was released as a firmware update to other Nexus devices like the Nexus 7, Nexus 4 and Nexus 10. While this is an advantage that owners of recent Nexus devices enjoy, the same cant be said for those who opted for non-Nexus devices. The Galaxy Nexus, which was released in late 2011 has also been left out.
Of course, most of the high-end flagships that were launched over the past 12 months are sure to get upgraded to the latest and the greatest from Google, it is pretty much a guessing game as far as older devices as concerned. We did publish an initial peek into which devices were sure to get updated, but here's a more comprehensive and updated list which will tell you what to expect for your device.
Samsung
This is an updated list based on a leaked internal document for Samsung Knox updates, which also indicated which devices are lined up for KitKat.
Samsung Galaxy S4
Samsung Galaxy S4 Zoom
Samsung Galaxy S4 Active
Samsung Galaxy Note 3
Samsung Galaxy Note II
Samsung Galaxy S3
Samsung Galaxy Mega (No clarity on whether this is for the 5.8 or 6.3 or both)
Samsung Galaxy S4 Mini
Samsung Galaxy Tab 3
Samsung Galaxy Tab 2
A recent report from Sammobile, the unofficial source for all things Samsung, seemed to indicate that there were a slew of devices like the S4 Mini, S3 Mini, Ace 3 among others which were being tested for the new OS version, So it is possible that there could be more devices added to the above list. Also, there is no concrete information yet on carrier-branded versions of the above devices, but it would be safe to assume that KitKat should arrive on them sometime in early 2014.
HTC
Again, this list is not based on official information from HTC. HTC however has mentioned a couple of devices on its Twitter account, and owners of these devices can be sure enough to receive the update.
HTC One
HTC One X+
HTC One X
HTC Droid DNA
HTC J
HTC Butterfly
HTC Desire Series released in 2013
HTC One – Verizon – Q1 2014
HTC Droid DNA – Verizon – Q1 2014
And of course, upcoming high-end phones like the HTC One Max are likely to get upped to Android 4.4 soon after release, if they don't come with it already.
Sony
Sony has been one of the first OEMs to release an official list of devices which will get updated to Android 4.4 KitKat. And as expected, the list is comprised mainly of the high-end devices Sony released through 2013. While there is no exact time frame mentioned, owners of these devices should breathe easy now that this is confirmed.
Sony Xperia Z
Sony Xperia Z1
Sony Xperia Z Ultra
Sony Xperia Tablet Z
Sony Xperia ZL
LG
LG has been a force to reckon with, soon after it released the stunning Nexus 4 and Optimus G last year, and has gone on to release some cutting-edge devices through 2013. Here's the unofficial list of LG devices which are likely to get updated to Android 4.4 KitKat, as per sources.
LG Optimus G
LG Optimus G Pro
LG G2
LG Optimus L7
LG Optimus L5
LG Optimus L3
LG Optimus VU
LG G Pad 8.3
Motorola
For those who came in late, Motorola was acquired by Google last year, and that certainly seems to reflect in the design of new devices like the Moto X and Moto G which the company announced this year. What's also exciting is that Motorola has officially released a list of devices which will receive the bump-up. While no specific time lines are mentioned, here's the list.
All Variants of Moto X
Moto G
Droid RAZR HD
Droid RAZR MAXX HD
Verizon Droid Ultra
Droid MAXX
Droid Mini
Droid RAZR M
To check if your device qualifies for the KitKat upgrade, you can visit the official Motorola Software Upgrade Page.
Conclusion
As you can see, that's a pretty comprehensive list of devices that are eligible for the latest and greatest from Google. In fact, other than the Nexus devices, some of these have already started receiving the OTA update, like the Google Play Editions of the HTC One & the Samsung Galaxy S4 as well as the LG G Pad 8.3. Android 4.4 comes with a lot of cosmetic as well as functional improvements, and has been built to also work on older devices. So we may well see a lot of additional devices getting added to this list. Are you using Android 4.4 KitKat already?
Related Posts