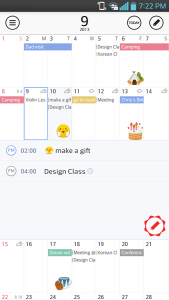 Calendars are mainly used to keep track of the dates as well as to note some important events. While some people don't really care about the design and layout of their calendars, there are those who value the pleasant feeling that their calendars bring so they usually put some extra effort to make their calendars more visually appealing. If you are already using the native calendar app of your Android smartphone or tablet and yet, you are not quite satisfied with its UI design, you might as well try this nice looking calendar app called SolCalendar.
What Is It and What Does It Do
Main Functionality
SolCalendar is a free calendar app for Android tablets and smartphones. Just like your device's native calendar app, you can use this app to view and keep track of the days, weeks and months of a particular year. Apart from this, this application also allows you to create events, reminders and agendas. It's just that when compared to other calendar apps, SolCalendar definitely stands out when it comes to user interface design. It also features a wide variety of adorable stickers that you can use to tag or mark a special day or event.
Pros
Beautifully designed user interface
Neat, responsive and easy to use
Features three different calendar view layouts – view by month, day or agenda
Features a wide selection of adorable stickers to mark your special days and events
Beautiful home screen widgets – available in multiple sizes (2×2, 3×2, 4×2, 4×4, 3×4 and 5×5)
Built-in weekly weather forecasts (optional)
You can create events with reminders (supports custom notification tones)
Automatically syncs with your existing calendar – you can even sync your calendars from Yahoo!, Daum, etc.
Customizable settings
You can import/export your calendar data
Cons
Lacks support for Google Maps integration
For some reason, this calendar doesn't rotate to landscape mode
The app's main UI only supports one theme – it would be nice if there are more themes (ex. Light or Dark)
No option to change the size of the calendar's font
Discussion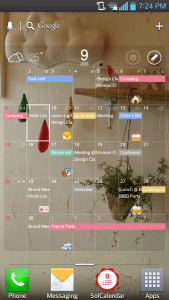 Appearance wise, SolCalendar is indeed a beautiful looking calendar app and it is also very smooth and responsive. Its user interface looks neat and spacious and you can easily view the dates, days, events, etc. It also features a wide selection of stickers that you can use to tag or mark a special day or event. In addition, this app also features three different viewing layouts so just like your native calendar app, you can easily switch the app's layout to show you the entire day, week or month.
Functionality wise, this intuitive calendar app is very stable. It loads perfectly on your device screen without any annoying glitches or errors. This app also features a bunch of user-friendly controls.
What I like about this app is that automatically syncs to your native or existing calendar so there's no need for you to manually update your events and agendas. It also features a weekly weather forecast so it makes it easier for you to keep track of the weather. This also helps you consider the plans that you want to make for the upcoming days and could also serve as a daily reminder for you to bring your coat or umbrella.
Another thing that I like about SolCalendar is the fact that it features a variety of home screen widgets. These widgets are available in different sizes and you can even adjust the widget transparency so that they would blend perfectly with your current home screen wallpaper.
All in all, I do not have any serious issues about this app except for the fact that it doesn't rotate to landscape mode. I also noticed that it lacks support for Google Maps integration. It would be nice if it provides a feature wherein you can just click on the location stated in the agenda to view the map of the given place, city or area. It is also important to note that this app only supports one theme and it also doesn't let you adjust the size of its font. Some users might have issues with this app's small font.
Conclusion and Download Link
I find SolCalendar really attractive. I really like its layout and UI design. It's also great to know that this app has cute stickers that you can use to label or mark a special day or event. Even so, it is still far from perfect and as I've already mentioned above, it does have a couple of flaws. Nevertheless, I still recommend that you check out this app especially if you are currently looking for a better alternative to your device's native calendar application.
Price: Free
Version reviewed: 1.0.8
Requires: Android 2.3.3 and up
Download size: 15MB
Related Posts