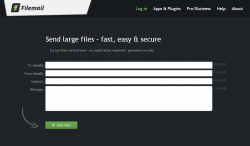 Sending files via email has its limits. In Gmail, you are only allowed to attach a file that is no larger than 25MB. If you want to send a larger file, you can use Dropbox or Google Drive. However, these cloud-based online storage services will also limit the size of file that you want to send to the amount of storage space you have available, which is 2GB for Dropbox and 15GB for Google Drive for freeu sers. This may not be a problem if you're just sharing some important documents or images but what if you want to send a file that is larger than the aforesaid file size limit? In this case, you might want to check out the free online file sharing service called Filemail.
What is it and what does it do
Main Functionality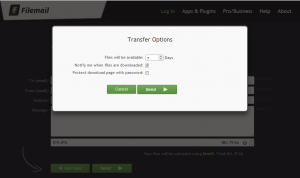 Filemail is a free online file sharing service that lets you send or email large files of up to 30GB. This web app works on any modern web browser so you can easily use it without having to download or install anything on your computer. You do not even need to create a user account. Just load the website on your web browser, upload the file or files that you want to share then copy and send the download link (transfer URL) of your file to your recipient.
With Filemail, you can send unlimited files. There is also no limit to the number of times that your files can be downloaded. Just remember that if you are a free user, your uploaded file/s will only stay in the web app's servers for seven days (or less).
Pros
Easy to use, no registration required
No download needed – no need to install any additional software or app to your computer because this works directly from your web browser
You can send/email large files of up to 30GB
The number of files that you can send as a free user is unlimited (no weekly or monthly quotas, etc.)
Your shared/emailed files can be downloaded an unlimited amount of times
You can send any type of file – images, songs, videos, PDF files, Word documents, Excel spread sheets, RAR files, ZIP files, text files, PSD documents, GIFs, APKs, etc.
You can send multiple files at once
Provides different options for sending the file to your recipient – it's either you can manually enter the email of your recipient or you can use the direct download link or transfer URL
You will get a notification whenever your files are downloaded (optional)
You can set the number of days before your files will be removed from the Filemail server – by default, your files will be stored in the web app's servers for one week or seven days but you can make it shorter
Developer says: "Security and privacy is THE top priority of our development team. You can read about how we secure your files in this whitepaper."
Cons
Filemail's advanced features aren't available for free users; if you want to enable delivery tracking, password protection of download links, HTTPS transfer, ability to download Windows, Mac, Linux, Outlook, and iOS Filemail clients/apps for usage directly from desktop or mobile device, etc., you need to upgrade your account to Business or Pro — both of which are monthly subscriptions
Free version is for personal use only and downloads expire after seven days — no way to increase this expiration limit for the free version
Website is not optimized for mobile devices
Discussion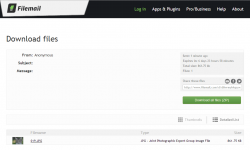 Compared to other online file sharing services, Filemail decided to make a bold move by allowing its free users to send large files of up to 30GB. In other services, users are only limited to 2GB – 10GB. Thus, Filemail serves as a great alternative for sending files that are too large for your current cloud-based online storage and file sharing service.
Functionality wise, this web app features a user-friendly and straightforward system of sending files. All you need to do is to go to the web app's website and then you will see a section where you are supposed to upload your files. The web app will also ask you to fill in the empty fields with your email, your recipient's email, the subject of your email as well as your message but these fields are optional.
To upload your files, just click the "Add files" button then select the files that you want to send. Once you're done, click "Send" then indicate the number of your days that you want your file to be made available for download. You can also set the web app to notify you whenever your files are downloaded. Once the transfer is complete, the web app will take you to your file's download page and thereafter, you are free to copy and send the file's download link or transfer URL. Keep in mind that Filemail will only keep your file for seven days. After that, your file will be deleted from its server.
So far, this free online file sharing service has proven its worth. It also supports different types of files so you're free to upload and share any type of file that you like. There's also no delay in the uploading process. It's just that free users aren't allowed to password protect the download links that they want to share. Plus, the files that you upload and download won't pass through a secure HTTPS connection for free users so there's a possibility for your files to viewed and taken by unauthorized people if you are on an insecure network.
Conclusion and download link
Filemail is a great way for users who wish to email or share a bunch of large files. This online file-sharing service is also ideal for those who just want a quick and easy way to transfer their files from one computer to another. You won't get all the juicy features in the free version but the free version is good enough for basic file-sharing — everyone who needs more oompf can upgrade to Pro or Business. There may be some important aspects that needs to be enhanced but all in all, this web app pretty much does what it is intended to do so go ahead and check it out.
Price: Free, Pro – $9/month, Business – $15/month

Version reviewed: N/A

Requires: Any type of modern browser (Chrome, Firefox, Opera, Safari, IE, etc.) on Windows XP, Vista, 7, 8, Mac OS X, Linux

Related Posts