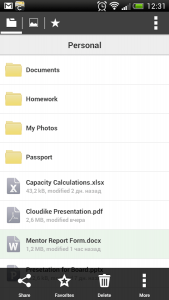 Nowadays, there are so many apps that offer free cloud storage space. If you are already using one, then it makes it easier for you to distinguish the features that you would like to have in your personal cloud storage space. Perhaps, you would like an app that's easy to use without any confusing and burdensome options. Speaking of which, there's this new entry in the list of free cloud-based storage apps for Android and it is called Cloudike.
What Is It and What Does It Do
Main Functionality
So what is Cloudike? Technically, it is no different from the cloud-based and online storage apps that you have already encountered. It's just that with this app, you get 2GB of free cloud storage space so you can use it to upload and store any type of file that you like may it be your e-books, text files, PDF files, word documents, style sheets, audio tracks, photos and videos. So far, I haven't encountered any file that this app doesn't support. This app also takes a point-blank approach to the way that you store your files and photos.
Pros
Simple, easy to use, neat UI
Users get 2GB of free storage space upon registration
Supports almost any types of files such as photos, documents, music, e-books and videos
Supports automatic camera upload – if enabled, this option will automatically upload all of the photos and videos that you have stored in your mobile device
Sorts your files by date created, modified or by alphabetical order
You can organize your files by moving them into specific folders
Built-in file sharing options – you can share your files via Bluetooth, email or Wi-Fi
You can add specific files to your list of "Favorites"
Cons
Does not support auto-sync
Needs to add more options for better user experience – ex. viewing layout modes, multi-select tool, share file via direct link, etc.
Cannot store files that are larger than 2GB and as of now, there are no options for upgrading your service plan or storage space
You cannot access your Cloudike storage using your web browser
There is no option for password reset or recovery
Discussion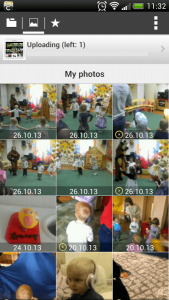 Cloudike is basically a simple and straightforward personal cloud storage application that supports almost all types of files. It also features a neat user interface with user-friendly controls. While the 2GB of free storage space that it is currently offering may not sound too enticing, especially now that there are other apps that allows you to get up to 10GB of free storage space, this is already enough to store most of your important files unless of course, you want to store files that are larger than two gigabytes.
If you are using the app for the first time, then it will eventually prompt you to create a new user account by entering your first name, last name, email and password. After this, you will be automatically logged in to your personal cloud storage space. The app will also prompt you if you want to automatically upload your photos and videos via "Wi-Fi only" or via "Wi-Fi + 3G". If you do not want to choose any, just press the skip button. The app will then take you to its main screen. You are then free to manually upload the files that you want to store in your Cloudlike storage. You can also manage and organize your files by folders.
All in all, I can say that Cloudike is a decent app but it still needs to be polished in such a way that it could actually compete with today's leading cloud-based storage apps. One good example of this is the app's lack of support for "smart sync" or "auto sync". This means that every time you make some changes to your original files, you also need to manually update the files that you have stored in the app. Other than this, this app also lacks the much-needed option for selecting multiple files. You cannot also access your cloud-based storage using your web browser.
It is also important to note that this app is being offered as white label personal cloud storage. So it seems that OEMs and mobile device manufacturers can opt to launch and include this app on their devices under their own brands.
Conclusion and Download Link
Cloudike proves to be useful especially for users who wish to have a secondary cloud-based storage app for their mobile devices. It's just that with its current version, it looks like it is still on its early stages of development so there's still plenty of room left for improvement. Nevertheless, this app is good. So if you are just looking for a simple and straightforward app that you can use to keep some of your less important files and photos, I suggest that you try this app by clicking the link below.
Price: Free
Version reviewed: 1.1.36
Requires: Android 2.2 and up
Download size: 2.8MB
Related Posts