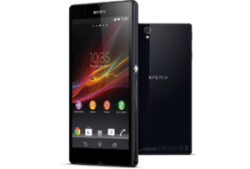 DooMLoRD's original rooting toolkit could root a wide variety of Xperia devices, owing to the exploit 'pref_event exploit'. But, the exploit has been patched for the Sony Xperia Z (C6602/3) devices on the firmware 10.3.1.A.0.244/2.67. DooMLoRD has now found a way around of getting your Xperia Z on the same firmware rooted. Read on to find how you can get your Xperia Z on FW 10.3.1.A.0.244/2.67 rooted.
Disclaimer: This guide is intended as a helpful "how to". dotTech and its writers are not responsible for any gain or loss (including but not limited to bricked devices) incurred as a result of following this guide. Root your device at your own risk. Rooting may void your warranty.
Requirements
This guide will help you to root your Sony Xperia Z (C6602/3) with firmware versions 10.3.1.A.0.244 / 10.3.1.A.2.67. Do not try this on any other device or firmware. Proceed at your own risk.
Before We Begin
How To Root Sony Xperia Z (FW 10.3.1.A.0.244 / 10.3.1.A.2.67)
Connect your Xperia Z to your computer via a USB cable.
Open the Sony Flash Tool which you had installed earlier on your computer.
Now, here's the main step for the way around. Just flash the rootable kernel (XperiaZ_C660X_KernelOnly_10.3.A.0.423_Generic_NL.ftf) to your device using the tool.
When the flashing process is over, disconnect the USB cable and reboot your device.
Now, close the Flash Tool (IMPORTANT!!)
Plugin the device to your computer again.
Extract the file DooMLoRD_Easy-Rooting-Toolkit_v18_perf-event-exploit.zip to the location C:\ on your computer.
Run the file runme_win.bat from the location you just extracted.
After the rooting process is over, the phone will restart.
Now, open your applications drawer and confirm that you now have the app 'SuperSU' installed on your device.
Power off your device.
Flash XperiaZ_C660X_KernelOnly_10.3.1.A.2.67.ftf or XperiaZ_C660X_KernelOnly_10.3.1.A.0.244_BE.ftf depending on the firmware you were first on.
Disconnect the USB cable and power on your phone.
Congrats! You have now successfully rooted your Sony Xperia Z!
Conclusion
Enjoy your rooted Xperia Z. Now you can go ahead and install root-only applications, enjoy advanced management permissions, and so on.
[via XDA]
Related Posts