Yesterday when I realized that I was running Firefox 3.5.7 even though Firefox 3.6 was out, I updated my Firefox – as fast as my fingers could click – to v3.6. After the update I went about my business surfing the web, doing some of this, doing a little of that. However, something was just… off about the whole experience.
You see one of the best I like about having a mouse with a scroll wheel is that I can use the scroll wheel to open links in new windows (i.e. click on a link with the middle scroll wheel and a new tab will open with the website in it). In fact, I use the scroll wheel button so often, I honestly feel lost when using a mouse without a scroll wheel. So, of course, after updating to Firefox 3.6, I used the scroll wheel button multiple times.
At first I did not notice it directly, but as I said, something just felt off. Then it hit me that before I updated to Firefox 3.6, the new tab would always be placed (when I used the middle scroll wheel button) at the end of the tab bar, but now it was being placed next to the active tab. Now I don't know if it is a new change in Firefox 3.6, or just coincidental with my update of Firefox, but once I realized this, it drove me crazy; it was so annoying to not have my tabs in the proper order. So I went about looking for a solution, and a solution I found.
For anyone that finds the new tab behavior annoying, follow these simple steps to make it so new tabs are placed at the end of the tab bar instead of after the active tab:
Run Firefox.
Type in about:config in the address bar…

…and press the Enter key on your keyboard.
After you press the Enter key, you should see a warning; click I'll be careful, I promise! to bypass the warning message: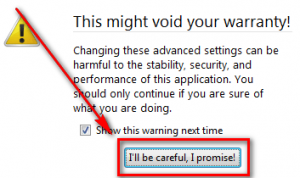 After you have bypassed the warning message, you will see a list of Firefox's "under the hood" settings: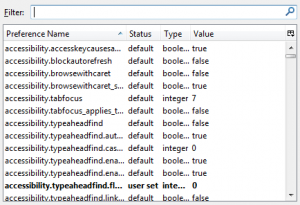 Although Firefox's about:config is not quite as dangerous as Window's registry, you still want to be careful, so be careful what you change.
In the "Filter" box, type in browser.tabs.insertRelatedAfterCurrent…
…and you should see this:
Double click on true (or right click -> Toggle) so that it changes to false:

Once the "Value" is set to false, you are good to go. Simply close the about:config tab and go about your web surfing.
While I am sure many people will have no use for this trick, many others will also appreciate it if they – like me – are creatures of habit.
Related Posts