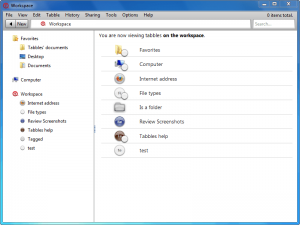 Update: This giveaway has now ended. Please subscribe to dotTech (e-mail | Twitter | RSS) so you can know about future giveaways before they expire!
We have all heard of Tabbles, right? (You know, the terrific file management/tagging program that dotTech has reviewed.) Well, for the next 48-hours, dotTech has teamed up with Yellow blue soft to bring dotTechies Tabbles Home ($29.99) for free!
For those that don't know, Tabbles is a program that aims to eliminate your file management pains by easily and efficiently tagging files. There are many handy features of Tabbles, such as the ability to multi-tag files, the ability to auto-tag, and powerful tags/files filtering capabilities. However, why talk about it when we can see it in action? The following short video – 1 minute and 19 seconds long and created by the developer – gives a quick introduction to what Tabbles is and what is does:
If you would like to learn more about Tabbles in detail, you can either visit the drop by Tabble's website, or read dotTech's full and comprehensive review on it.
Tabbles actually comes in four main editions: Portable ($29.99), Home ($29.99), Business ($69.99), and Corporate ($129.99). [dotTechies can receive 25% off all editions for a limited time!] The following chart, created by the developer, lists the differences between all four editions: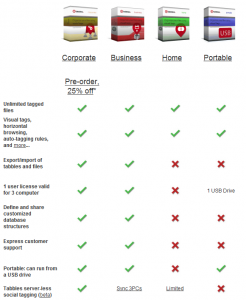 In addition to the four main editions, there is a free edition (limited to tagging 1,000 files) and there are special discounted editions (which have the functionality of Tabbles Home) available for students/teachers/universities ($14.99), and people living in third-world countries ($7.49).
That said, for the next 48-hours dotTechies can grab Tabbles Home completely free! This freebie is a full Tabbles Home license with full functionality of Tabbles Home – there are no limitations on how many files you can tag.
To get Tabbles Home for free, follow these simple directions:
Version being given out for free: 1.5.14rev8

Free updates: No

Special note: While officially Yellow blue soft will not provide free updates, my contact informed me they may provide some free updates for a unspecified limited amount of time.

Supported OS: Windows XP/Vista/7 (32-bit and 64-bit)

Special note: .NET Framework v4 is required

Download size: 4.2 MB

Giveaway time-frame: Tabbles Home is available for free to dotTechies for 48-hours (starting 00:00 PST Thursday September 16, 2010 and ending 00:00 PST Saturday September 18, 2010). After these 48-hours, you will no longer be able to grab Tabbles Home for free via this giveaway. However, you will be able to install/reinstall it if you wish.
Download Tabbles. (NOTE: Only the installer version will work – the portable version is not part of this giveaway).
Install Tabbles.
Run Tabbles.
Double-click on the system tray icon to open the main program window.
Go to Help -> Enter registration key and register Tabbles Home with the following registration key:
Key: [REMOVED – This giveaway has ended.]

Note: This promotion is available to everyone – everyone may get it for free. However, this is a dotTech.org promotion. Please do not copy, paste, or reprint the registration key anywhere else including private or public forums, blogs, file hosting services, etc. If you want to spread information about this offer, you may link to this article by providing a permalink (alternative permalink) to your audience. If you respect our wishes, we will be able to continue to bring you great freebies. If you don't, we have no incentive to continue our promotions and they may stop.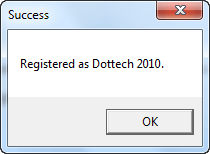 Play around with Tabbles. Evaluate the program and come back here to provide some feedback to Yellow blue soft in the comments below. Feel free to write a mini-review, or just list some good/bad points about the program.
Enjoy!
If you have any trouble getting Tabbles Home for free, post below and me or other dotTechies will try to help.
Related Posts