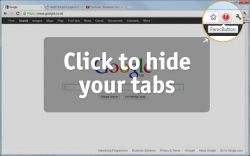 While Chrome makes it easy for users to close or open new tabs, it does not support multiple tab management so you have to look for specific extensions that could help you manage your tabs wisely. As for those who are looking for a decent Chrome extension that could automatically hide or restore all tabs (except for one), you can try PanicButton. Let's find out how this simple tool can help you especially in certain situations wherein you don't have much time to individually hide or close all of your opened tabs.
What is it and what does it do
Main Functionality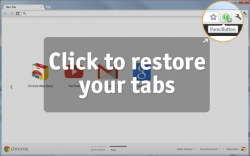 PanicButton is a free Chrome extension that is intended to automatically close or restore all of your tabs in just a single click of a button. So whenever you come across a situation in which you're trying to prevent others from viewing the sites that you're browsing, all you need to do is to click the panic button from your omnibar and it will automatically close all of your tabs except for one – your new tab homepage. When in use, the panic button will turn from red to green and it will also show the total number of tabs that you've recently closed. To restore these tabs, simply click the button again and everything will be restored and you can safely continue your browsing session.
Pros
Simple, easy to use
Automatically closes or restores all of your active Chrome tabs with the click of a button
Keyboard shortcut/hotkey – you can configure this tool to close all active tabs via keyboard shortcut (By default, you can press F4 but you are free to make your own shortcut by changing the extension's default options.)
You can password protect all of your stored tabs
Customizable safe page/s – If you want to leave a particular tab or page open, just add it to your safe pages
You can opt to automatically hide the panic button right after activation
Cons
Instead of reloading the pages all over again, it would be nice if this tool could simply restore the cached pages so it would take less time for the pages to load
The closed pages will still show up in your browser's history
Discussion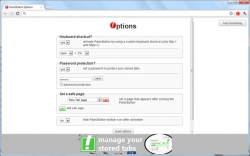 Have you ever come across those situations wherein you're trying to keep the sites that you're browsing from certain people especially those who are standing behind your back? In such cases, this simple extension for Chrome can definitely help you close and hide all of sites that you are browsing and you can even restore them as soon as you're safe from those annoying and troublesome onlookers.
The way PanicButton works is dead simple. It basically lets you close and restore all of your active Chrome tabs in just a single click of a button. Once installed, the extension will add a shortcut button to your omnibar. When not in use, the button's default color is red but it will turn to green right after you click on it to hide all of your active tabs. Its icon will also show the total number of tabs that you've hidden or stored.
To use this extension, simply browse the web like you usually do and just click on its button to automatically hide all of your active tabs. Just click on its button again to restore all of your recently closed tabs. It is also important to note that this tool will close all of your Chrome tabs except for your "safe tabs". By default, it will leave the new tab homepage open but you can configure it to show or add more safe tabs. Moreover, this tool also supports keyboard shortcuts so you can just press F4 to immediately close all of your active tabs. You can also password protect all of your stored tabs so that no one else could restore them – not without your permission. Another notable feature of this extension is that you can opt to hide the panic button right after you close all of your active tabs.
Functionality wise, PanicButton does a good job in hiding and restoring all of your Chrome tabs. It's just that it could have been much better if it would reload the cached version of your stored pages so that you do not need to reload them all over again. You should also keep in mind that while this tool can immediately close and hide all of your tabs, it still won't hide your recently opened pages from your browsing history. So if ever someone tries to keep track of the pages that you've recently opened, better make sure to clean your browsing history. To be safe, better use the extension while you're browsing on incognito mode.
Conclusion and download link
PanicButton proves to be very handy for users who wish to keep their browsing sessions private — especially ones that need the ability to quickly hide tabs. It is very easy to use and it definitely helps you keep the "secret sites" that you are frequently visiting from being exposed. This extension has its fair share of drawbacks such as that it takes time to reload all of the tabs right after they're restored and that your recently opened sites will still be shown on your browsing history unless you're on incognito mode. However, overall it serves its purpose well — check it out.
Price: Free

Version reviewed: 0.14.2.2

Requires: Google Chrome on Windows XP, Vista, 7, 8, Linux and Mac OS X

PanicButton on Chrome Web Store
Related Posts