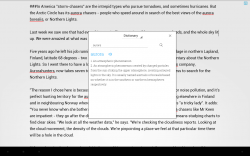 Some people feel more comfortable when they're typing on a physical keyboard. As for others, they don't really mind the type of keyboard that they are using (whether it's on-screen or tactile) for as long as they can focus on their writing. This is why it's important for one to choose a good writing app that would suit his or her needs. There may be a lot of great writing applications out there that you can use but if you simply want to write to your heart's content, you might as well check out this app called JotterPad X.
What Is It and What Does It Do
Main Functionality
JotterPad X is a free writing application for Android. This app is meant for both casual and creative writers. This app also highlights its minimalist user interface and full featured text editor. The main goal of this app is to provide you with a distraction-free writing experience so that you can just keep things as simple as possible. So with JotterPad X, you can just focus on what you're writing without being frequently bothered by your document's layout, style and text color. Just launch the app, create a new document, write whatever you want and once you're done, you can save your document as .txt, .md or .fountain. This app is also the upgraded version of JotterPad HD.
Pros
Elegant and visually appealing user interface
User-friendly, responsive and stable
Provides its users with a full-featured text editor which is equipped with the most essential tools for writing such undo, redo, copy, paste, adjust font size, save, find, counter, file type and research (search for words in dictionary/thesaurus)
Different document styles – custom, essay, magazine, newspaper, novel, poem, lyrics and screenplay
Automatically hides the action bar so that you can type on full screen without any distractions
You can link the app to your Dropbox account
Can save and open documents to and from your local folders – supports three types of file formats (.txt, .md and .fountain)
Can export your document as PDF
You can share your documents as text, file or html (share via Bluetooth, WiFi, SNS or email)
Cons
The app doesn't support common word processing formats such as .docx, .doc, and .rtf
Has some formatting options, such as font size and file type, but doesn't really support rich text
To access the app's premium features, you will be required to purchase its Creative version ($4.98)
Requires Android 4.0.3 and up — sorry Gingerbread users
Discussion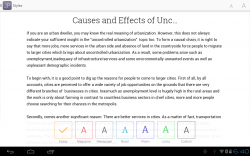 JotterPad X is undoubtedly one of the best looking writing apps that I've seen so far. Its minimalist UI looks great and it's also very neat, responsive and stable. Unlike Kingsoft Office and Quickoffice, this app focuses more on distraction-free writing so it will only provide you with the most essential tools that you need for writing such as copy, paste, select all, undo, redo, find, research, save as and counter. The research tool is the app's built-in dictionary and thesaurus so it makes it easier for you to search for related words.
When using the app, all you need to do is to launch it and then you can start by creating a new document. You can also link the app to your Dropbox account. If you do not have one, you can simply save your documents to your local storage. Aside from this, JotterPad X also provides its user with a slick side menu which contains all of its basic settings. This is also where you can check your document's styles and versions. As for the former, it is where you can set your preferred document style. You can also adjust your document's font size. The styles are based on the type of content that you want to write so it's up to you if you want to choose the style for writing an essay, poem, novel, etc.
What I like about this app is that it's easy to use. It's also very responsive and it lets you write with ease without having to constantly worry if you made the right paragraph formatting, margin, indention and so on. You can just focus on writing. The rest can be done later on. Once you're done, you can save your document as .txt, .md or .fountain. It's just a bit of a downer that it doesn't let you save a document in .docx or .doc.
Another thing that I like about this app is that it allows you to convert your documents into PDF. This is great especially if you want to create an e-book from your collection of self-penned short stories and poems.
Conclusion and Download Link
If you are looking for a good writing app, I suggest that you try JotterPad X for Android. It's a great option for users who wish to have a distraction-free writing experience. With this app's minimalist UI, you can just focus on what you are writing. You can let your creativity flow without having to bother too much on technicalities. After all, it is what you write that matters most. Just don't expect this app to be the most feature-filled word processor out there, because it isn't — and it isn't looking to be.
Price: Free, Creative – $4.58 (via in-app purchase)
Version reviewed: 10.3b
Requires: Android 4.0.3 and up
Download size: 7.2MB
Related Posts