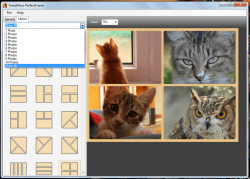 Given the popularity of today's social photo sharing sites, it wouldn't be unusual for users to continuously think of ways to make their photos look more unique and interesting. Speaking of which, photo collages are currently very popular and you can actually see a lot of them on Twitter and Instagram. So if you want a quick and easy way to make those cool photo collages, you can just download and try this free photo collage creator for Windows called TweakNow PerfectFrame.
What Is It and What Does It Do
Main Functionality
TweakNow PerfectFrame is a free photo collage creator for Windows. With this tool, you can easily create photo collages without having to edit your photos on GIMP or Photoshop. Once you have this tool installed on your computer, you can instantly create a lot of creative and fancy photo collages. Just select the type of layout that you want, place your photos in each frame and then you can style your collage by choosing your preferred background color, pattern, captions, etc. That's not all. TweakNow PerfectFrame also features more than a hundred layouts and you can even combine up to ten photos in some of its layouts.
Pros
Easy to use, neat and resizable UI
Features over a hundred layouts
You can add or combine up to ten photos in one layout
You can change or customize the layout's style and size – this includes the aspect ratio, background color/pattern/image, photo margins, spacing and round corners, description, etc.
You can adjust the image in each frame – size to fit, rotate right, rotate left, zoom
Displays a preview of your collage with adjustable zoom levels
Saves your photo collage as BMP, GIF, JPG, PNG, TIFF
Can open or edit your existing photo collages as projects (.pfj)
You can instantly share your newly created collages via email
Cons
Needs to add a flip option (flip to right, flip to left) for the photo's right-click context menu
Needs an option for changing the style of the photo borders (border style, border size and border color)
Having so many layouts is nice but it would also be nice to have templates with pre-designed graphics
Lists only Windows 7 and 8 as supported, so it may or may not work on Windows XP and Vista
Discussion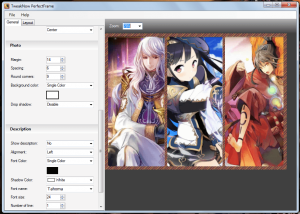 There are a lot of great photo collage makers that you can use online but what if you don't have instant access to internet and you're caught up doing some tasks in which you need to combine multiple photos into creative collages? At such cases, having a free photo collage creator on your computer would definitely come in handy. Besides, if you have TweakNow PerfectFrame, you can choose among its wide variety of collage layouts.
With TweakNow PerfectFrame, you can create all sorts of photo collages. This tool will also allow you to combine up to ten photos in just one collage. What I like about this tool is that it is super easy to use. Just open the application and then select the layout that you like. After which, you're free to add your photos to each frame. You can even adjust the zoom and orientation of each photo so that all of them would properly fit in the frames.
In addition, you can also adjust the style and size of your collage. Just click on its "General" tab and then select the appropriate settings for each section. You are free to select your preferred image size, aspect ratio, background color, background pattern, background image, photo margins, spacing, rounded corners, etc. You can even add your own captions.
Another thing that I like about this tool is that it lets you save your photo collages into different formats. You can save your collage as BMP, GIF, JPG, PNG or TIFF. You can even save it as .pfj, a format that you can edit and save for later. On the other hand, the tool's UI may not be the best-looking one that I've seen but it's downright simple. It's also resizable and non-obtrusive.
All in all, I can say that TweakNow PerfectFrame is a decent photo collage maker. It offers a lot of layouts plus you're free to customize your collage's appearance and format. Even so, there are still some options that this tool lacks such as the ability to flip photos as well as to change the border style, color and size.
Conclusion and Download Link
If you like creating photo collages but don't want to go through all those bothersome photo combining procedures, I highly recommend that you try using TweakNow PerfectFrame. It may lack in some aspects but, as a whole, it's a decent photo collage maker for Windows. Check it out.
Price: Free
Version reviewed: 1.0.0.0
Supported OS: Windows 7 and 8
Download size: 2.03MB
VirusTotal malware scan results: 0/47
Is it portable? No
TweakNow PerfectFrame homepage
Related Posts