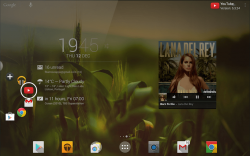 With Android, you can easily customize the appearance of your home screen, lock screen and even your app launcher. The same goes for your task switcher. So if you feel a bit uncomfortable using your phone or tablet's native task switcher, you can always look for some good alternatives. After all, the Play Store is filled with lots of personalization apps. You just have to pick the ones that you like the most. Speaking of which, Loopr is a new app that you can use as a replacement for your device's default task switcher.
What Is It and What Does It Do
Main Functionality
Loopr is a free task switcher for Android tablets and smartphones. It basically functions like the recent apps menu but its style and UI design is different. You can also customize its settings and change its default preferences. So instead of tapping the recent apps button on your NavBar, you can use Loopr to display your recently opened apps on the edge of the screen. It also doesn't matter if you switch to landscape or portrait mode since this task switcher will automatically reorient its trigger zones. By default, you can just tap the left or right side of your screen to view the apps that you've recently opened.
Pros
Neat and responsive user interface
Easy to use, very stable
You can display and open your recent apps by tapping the edge of your screen
Customizable settings – transitions effects, color styles, trigger areas, trigger delay, etc.
You can opt to show or hide the app's default options such as the service notification area, app info and home button
Supports floating windows and over swipe for Halo themes
Cons
No task killer – doesn't let you kill apps (could be added as an optional feature)
Some of the features are locked – requires in-app purchase
Discussion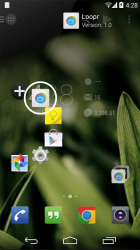 What Loopr does is that it displays your recently opened apps. Therefore, you can use it to switch back and forth the apps that you've recently launched and it's quite handy especially if you like to multi-task. Its main function is pretty much similar to your phone or tablet's recent apps menu but it flaunts a different style.
Unlike your native task switcher, Loopr won't place any buttons on your home screen or NavBar. Instead, it lets you set your preferred trigger zones so all you need to do is to tap the edge of the screen. By default, this task switcher uses both the left and right side of your device screen as trigger areas but you can change this by editing the app's trigger settings.
Functionality wise, Loopr runs smoothly plus it's non-obtrusive. It is also very responsive and it quickly responds to touch commands. Just a light tap on the edge of the screen will instantly display your recent apps. You can also opt to pin the home button on the recent apps list.
What I like about this task switcher is that it's easy to configure plus it's user-friendly. It also allows you to customize its settings in any way that you like so if you don't want it to show the app info, just disable the said option and that's it. You can also opt to use this app in conjunction with your device's native task switcher but of course, this app works pretty well as a standalone task/app switcher. It also features some nice transition effects such as fade, zoom fade and slide up. You can also change the color of its app info text and app ring.
All in all, Loopr does a good job. It's just a bit of a downer that it doesn't have a task killer so you cannot use it to kill any app. This could be added as an optional feature since not all Android users would prefer to kill their apps. It should also be noted that there are certain features that aren't available for free users. Therefore, you need to purchase the app's premium version in order to activate the options for live preview, open effects and icon pack.
Conclusion and Download Link
Despite the fact that it lacks a task killer, Loopr still manages to provide a slick and beautifully-designed recent apps menu that is non-obtrusive and fully functional. It is a great alternative for your device's native task switcher plus it works just fine – even if you do not opt to upgrade to its premium version.
Price: Free, Premium – $2.68 (in-app purchase)
Version reviewed: 1.0.101
Requires: Android 2.2 and up
Download size: 1.6MB
Loopr – Task Switcher on Play Store
Related Posts