If you make photo slideshows as a hobby or for business purposes, you've definitely wondered what the best professional slideshow software available is. Today we'll have a look at a very interesting slideshow app – SmartSHOW 3D by AMS Software: http://smartshow-software.com. This program offers almost every tool that you might ever need in slideshow making software yet it doesn't require weeks to master. Let's check its main features.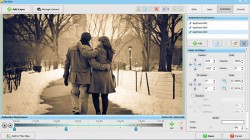 Powerful Editing
SmartSHOW 3D gives you full control over your slideshow project. Add an unlimited number of photos and edit them any way you want. SmartSHOW 3D slide editor supports multiple layers, so you can put a lot of fun stuff on a single slide: photos, text captions (including 3D-text), shapes or clipart from the app gallery.
There are pro-level tools to set animation for every object on the slide: using animation keyframes you can adjust the position, rotation, and opacity of the object at every given moment of time. Add a realistic shadow or apply a fancy mask to any layer. That's where you can let your imagination go wild and create truly unique slideshows.
Adding Spice to Slideshow
Now we've come to the "tasty" part of the software – SmartSHOW 3D is packed with cool stuff like a Big Mac. To introduce your project, add title clips from the software collection. There are lots of static or animated slide styles. Add or modify captions, edit animation the way you want, pick some cool-looking clipart from the gallery.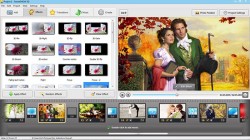 A variety of slide transitions and special effects is a must for a professional quality slideshow.  SmartSHOW 3D grants you such powers. There are 100+ transition effects for any type of slideshow:  choose from standard, gradient, double and 3D transitions. The special effects pack includes lots of stuff – pan & zoom, rotations, panoramas (including 3D versions), a series of unique effects like photo film, weather effects and so on.
And now it's time to add a soundtrack and chew bubble gum – the app supports multiple music files in one project, allows cutting any track and synchronizes the length of the soundtrack with the slides duration. You can even add sounds to certain slides – a sound from the program collection, a file from your computer or voiceovers recorded with the built-in microphone.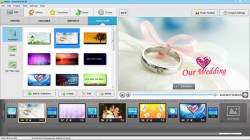 Ease of Use
You can't underestimate the importance of the interface as it is the main thing you're working with. SmartSHOW 3D offers a stylish-looking interface in mild tones pleasing to your eyes. The interface tabs are placed in a logical order, so you won't forget any detail while making your photo movie. It can really help a novice not to be lost in all of the features and is quite time-efficient for professional users.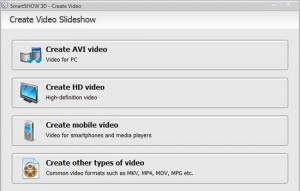 Rich Export Options
It goes without saying that the best professional slideshow software must support all popular export formats.  SmartSHOW 3D export wizard will convert the slideshow project to any common video format – AVI, MP4, WMV, MKV etc. in Full-HD quality. It has presets for tons of modern gadgets, tablets, smartphones, media players and game consoles, as well as presets for popular video hosting sites such as YouTube, Facebook, and Vimeo.  As a bonus, you can burn a DVD-disk with menu.
Saving Your Time and Money
What's worth noting is that SmartSHOW 3D doesn't cost a lot of money. For only $39.90 you get an absolute beast of an app with all the tools you might ever need. 180+ effects and slide styles, 3D animation, lots of export options including Full-HD – that's a pretty nice deal. Of course you don't need to hurry buying – download the free version: http://smartshow-software.com/download.php and enjoy creating professional quality slideshows!
Related Posts