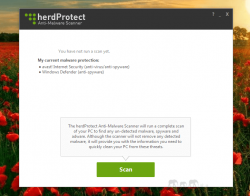 Having two or more anti-virus is okay (as long as real-time protection for only one is on) but it still cannot guarantee the detection and removal of all the malicious threats on your computer. Truth be told, there will always be those that won't appear as threat no matter how many times you perform a complete scan. It's just that running a bunch of anti-virus and anti-malware programs can greatly affect your computer's performance. However, this doesn't imply that you just let those undetected threats lurk around your PC. After all, you can always use herdProtect as your second line of defense.
What Is It and What Does It Do
Main Functionality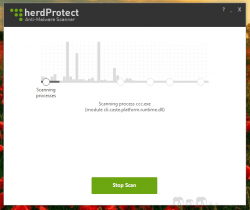 Reason Software Company's herdProtect is a free malware scanning platform that you can use to scan your computer for spyware, adware and other forms of malicious threats. Right now, it's still on its beta version so it can only scan your PC and give you some detailed results. It is also important to note that herdProtect is no ordinary type of malware scanning platform. It is basically powered by 68 anti-malware engines so it can thoroughly scan your PC for malicious threats plus it's cloud-based. Just think of it as using a total of 68 anti-malware programs to perform a thorough scan. So if ever your anti-virus software fails to detect a potential threat, herdProtect will likely catch it
Pros
Easy to install and configure
Thoroughly scans your computer for malicious threads, malware, viruses, spyware, adware, etc.
Powered by 68 anti-malware engines which includes Agnitum, AVG, Avira, Avast, BullGuard, Comodo, F-Secure, Kaspersky, Kingsoft, Lavasoft, McAfee, mSecure, Symantec, Trend Micro, Zeobit and a whole lot more
Gives a detailed scan report (via Notepad)
Fast, secure and reliable (encrypted connection)
Can work together with your existing anti-virus program
Cons
You cannot use herdProtect to scan any file you want; herdProtect specifically scans only 'active' files. herdProtect defines active files as the following: "One that is currently executing on the system (processes, modules, drivers, etc.) or has the ability to automatically execute by means of an auto-start procedure (such as an extension, task, etc.)". I'd like the ability to scan any file I want.
You cannot use it to remove any detected malware (this feature is said to be included once the software comes out of beta)
Cannot provide you with real-time protection (this feature is said to be included once the software comes out of beta)
Requires an active internet connection to use (the cloud is used to run scans, similar to VirusTotal)
herdProtect's privacy policy states: "Information we collect to provide you with the services includes: The files and URLs you upload for antivirus scanning." It isn't clear if the actual files themselves are kept or if just hashes of files are kept; I'm not very comfortable with the former.
Discussion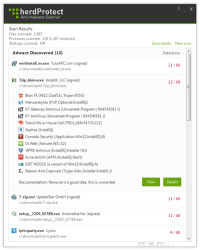 As time passes by, the number of internet threats continues to rise. So you cannot always expect your anti-virus program to filter all potential threats particularly those malware, spyware and adware. Well, this doesn't imply that you can just let them go undetected. However, you cannot just install a whole bunch of anti-virus programs. This will not only be detrimental to your PC but having to scan your computer using multiple anti-virus and anti-malware programs is surely time consuming and too bothersome. This is why it's good to have an alternative solution and that is herdProtect.
The way herdProtect works is rather simple and direct. It basically takes a snapshot of all the active files (ex. processes, modules, drivers, etc.) on your computer. It then strips off those files with any personally identifiable details before it sends it to herdProtect's servers via a secure network tunnel. The scanning process will then be done in the cloud and all of your computer's active files then be scanned using its top 68 anti-malware engines which includes Agnitum, AVG, Avira, Avast, BullGuard, Comodo, F-Secure, Kaspersky, Kingsoft, Lavasoft, McAfee, mSecure, Symantec and many others. After the scanning process is finished, herdProtect will give you a full report so that you'll know if there are any malicious objects detected.
As for your part, all you need to do is to download and install the anti-malware scanner on your PC. Once installed, you will be prompted to do a first scan. This scan is partially complete so some of the detected items will be put on queue. You will then be prompted to perform a second scan in order to thoroughly assess the validity of these items. As soon as the scan is finished, herdProtect will show you the full report and it's up to you to take action if ever you find some malicious objects lurking on your computer.
Keep in mind that this anti-malware tool is designed to scan your active PC files in the cloud so you would need to connect to a stable internet connection. Furthermore, herdProtect is still on its beta stage so it can only scan your PC for malware, adware and spyware. It cannot remove them yet. Its malware removal and real-time protection features won't be made available until it officially releases its full version – which is slated to be released on the second quarter of 2014.
Conclusion and Download Link
I find the concept of herdProtect quite similar to VirusTotal but it's different because it doesn't just scan any file, it can perform a full and thorough scan on your PC with 68 anti-virus and anti-malware engines. It acts as your computer's second line of defense, filtering out any possible threats that were left undetected by your existing anti-virus/anti-malware program. It's a great choice for when you suspect you may be infected with malware. Just keep in mind, the program is currently in beta and you cannot remove detected malware at the time of this writing.
Price: Free
Version reviewed: Beta version (1.0.0.0)
Supported OS: Windows XP, Vista, 7 and 8 (32 and 64 bit)
Download size: 1.85MB
VirusTotal malware scan results: 0/48
Is it portable? No
herdProtect Anti-Malware Scanner homepage
Related Posts