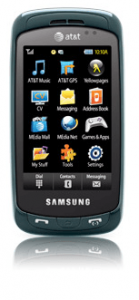 OVERVIEW
Debuted at the 2009 CTIA, the Samsung SGH-A877 (aka Samsung Impression) is a much talked about handset. It sports a full QWERTY keyboard with a gorgeous 3.2 inch touchscreen.  The 3 megapixel camera can can take panoramas (at a tiny 416 vertical pixels) and comes with 200MB of built in storage.  For additional storage, the Impression supports external MicroSD cards.
PRICE
In the United States, the Samsung Impression is free with a 2-year contract with AT&T, or $299.99 without. In other parts of the world the price will vary.
THE HARDWARE
The phone has a nice 3.2″ AMOLED screen and GPS.
It has a MicroSD slot which can hold up to a 16 GB card.  However, some brilliant wiz at Samsung thought it would be smart to hide the slot underneath the battery cover.
It features a full QWERTY keyboard and a 3.0 megapixel camera with 3x zoom.
It's not a small phone, but it is very nice to hold in the hand.
It has haptic feedback too:  it buzzes when you touch it.
It also has a proprietary port for charging, data transfer, etc at the top.
It's a UMTS 3G phone.  It is however quad-band and a "world phone".
THE SOFTWARE
The software is where the phone starts to fall apart.  It's not a bad phone, but it has too many bugs for a phone 10 months old.
Bugs:
When you use the "zoom" function to zoom into pictures on the internal and MicroSD memory, eventually they show up as just blackness.  I'm guessing it's a case of too much memory usage, but that means that the software doesn't get rid of the old zooms.
If you do something that takes a while and is full screen (such as copy a folder from the phone's onboard memory to the MicroSD card) it may freeze up.
It has the weirdest problem of not knowing the correct inches>feet conversion.  In my test, it thinks that 12.00004800018 inches are equal to a single foot.
Another quirk about this phone is that it has raised power, back, and accept call (is that what those are called?) buttons.
Quirks:
The phone actually has a lag time when it first boots up- you can't open the messaging app for quite a bit.
The user interface isn't consistent- for example, when scrolling in a folder, the folder moves up or down the amount you move your finger.  However, when checking the details on a picture file, when you scroll, it moves up a very large amount.
If you touch reply on a text message and keep your finger down, it will send a blank message (the Send button appears where the Reply button was).
You can't delete files from the root directory of the MicroSD card.
Although when you slide out the keyboard, the icons change orientation, the background picture does not.
Good Things:
The touchscreen can be fairly annoying at times, but overall the screen is fairly accurate.
Handwriting recognition!  Yeah!
When inside a folder, you can use the volume adjust to scroll.
The phone has three fonts:  Sans, a little handwriting-esque thing, and then something that looks almost as bad as my handwriting.
It has a nice user interface, and can send MMS messages.
It comes with all the features that a dumbphone would have:  alarms, calendars, call lists, tasks, memos, a calculator, a converter, a "world clock" (just a map of the world, and when you tap a country, it gives you the time), a timer, and a stopwatch.
Another cool thing about this phone is the ability to set up your own connection settings- for instance, I set up DNS servers to redirect to my phone so I wouldn't ever be able to use the internet on my phone, and it even lets you pick and choose what apps have what connection profile.
It also comes preloaded with trial versions of Ms. Pac-Man, Monopoly, Midnight Pool *2*, Diner Dash *2*, and a full version of Tumbling Dice.  What is Tumbling Dice?  Dice that tumble when you shake the phone.
The phone has 3 different keyboards: Slide-out QWERTY, touchscreen QWERTY (to access this, tilt the phone sideways when in touchscreen 123), and a touchscreen version of the classic 123 layout.
The audio app is fairly nice:  It can sort by album, artist, or playlist, and when you click on an artist, it sorts the audio files into albums.
The photo-viewing app is nice too:  It automatically rotates the picture to your viewing orientation (vertical, horizontal, and upside-down versions of those) and will automatically scroll when you tilt the phone.  It can get annoying, but there is a workaround:  click the Zoom button and don't zoom in.  It will stop auto-scrolling and auto-rotating.
It has a 3 megapixel camera.
It has nice animations.
OTHER THOUGHTS
The Impression has a thing called "TouchWiz"- a little dock on the side which docks "widgets".  These widgets are:  Analog Clock, Digital Clock, Dual Clock, Speed Dial, Favorite Contacts, AT&T Navigator (if you buy the phone from AT&T), Media Mall, MEdia Net, Today, Calendar, Favorite, Photo, Birthday, Profile, Bluetooth, Calculator, and Yahoo Search.  You can drag these to the main screen.  The reason I didn't mention these is because the dock is collapsible, and I've had it minimized for the time I've had the phone.  It also has a proprietary headphone/USB/charging port, but to use the USB you don't even need to install Samsung's software: Windows (at least Win7) detects it and adds it to My Computer.
FINAL RATINGS

A fairly nice phone for a good price.
The trials are fun.
Two QWERTYs and a 123 keyboard, all with T9 optional.
Nice screen.
Nice camera.
Nice audio app.
Haptic feedback is handy because it is nice to know when you've touched something.


Quite a few bugs.

Why does messaging have a startup time?

User interfaces needs to be made more consistent.

Why are the power buttons raised?

The zoom function in the picture viewer is annoying.

For a US market phone, they don't seem very interested in the correct conversion units.
FINAL VERDICT
The Samsung Impression is either a giant dumbphone that's really smart, or a smartphone that's really dumb. Since – technically speaking – it isn't a smartphone, lets say it is a smart dumbphone. In my opinion, this smart dumbphone is a great phone which suffers from being rushed to production. The software has too many bugs for my taste, and the MicroSD card slot is stuffed underneath the case, which is very annoying.  Overall, it's a nice phone, but I'd wait for a software update.
LINKS OF INTEREST
Related Posts