Microsoft Windows has very little in the way of customization options for its clock at the bottom right corner of the desktop. However, it can be made much more interesting with the Free Desktop Clock software. Free Desktop Clock is software that replaces the standard clock with a variety of alternatives. Read on to learn more.
To download the software to your checkout, check out this page. (May or may not contain bloatware during install, be careful.) The program works on Windows XP, Vista, 7, and 8. Launch it after you've downloaded it, which will open the Free Desktop Clock window below.
From that page you can select a few alternative clock skins with fancy fonts and colors. Click on a skin from the software's window, and it will then replace the Windows clock as below. The clock also displays the week day and date. Click OK to close the window.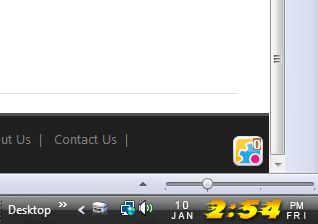 To the right of the skins there are a few check-box options for the clock. If you select the Show percent of memory use system option, a RAM percentage figure is also added to the left of the clock. Select the Use 12 hour format option to switch between 12 or 24 hour clock.

By default the clocks have transparent backgrounds. You can change them to color backgrounds by selecting the drop-down list below the check-box options. Select Color background, and click on the color box to add alternatives.

Click Customizations for further options. Select the Hourly time announcement check-box to add an audio chime each hour. Open the Free Desktop Clock calendar by selecting the Show calendar option after clicking on the drop-down list. When you left-click the clock, a calender will then open instead of the Free Desktop Clock window.
Overall, the Free Desktop Clock clocks are a notable enhancement on the one included with Windows. The free version of the software has a 9 clocks. However, if you upgrade to the advanced version ($14.95) many more clocks and calendar skins can be selected. Enjoy!
Related Posts