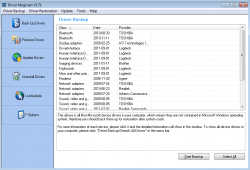 Backing up, restoring and keeping your drivers up-to-date can be a pain. It is something that you can do on your own with a little know how, but that doesn't mean that we all want to take the time to do it. Well for those of you who want to simplify these processes, you may want to try Driver Magician.
WHAT IS IT AND WHAT DOES IT DO
Main Functionality
Driver Magician is a program that can help you restore, backup, update, and even remove Windows operating systems. The program can easily identify all of the hardware on your system and backup drives to a location of your choice. If a change is made that you don't like, you can simply restore your drivers to their previous state.
Take note, personally speaking, dotTech always recommends to not update drivers unless you have a specific reason to do so. So even though Driver Magician has the ability to update drivers, always follow the rule of thumb "if it ain't broke, don't fix it" — don't just update for the heck of updating. And it is always recommended to try to update drivers via Windows Update or manufacturer's website before using a third party program like Driver Magician.
Pros
Can backup device drivers on your computer
Can restore drivers that have been backed up
Helps you search for and install updates for existing device drivers
Can uninstall device drivers from your computer
Can locate and detect unknown devices
Allows you to back up more than just drivers, like files and folders
Provides detailed information about your drivers
Allows you to create an auto-setup standalone package, which will allow you to restore all of your drivers without the need to install Driver Magician
Cons
Depending on how many device drivers you are backing up, the process can be slow
Using the standalone auto-setup package is a bit annoying due to the fact that you must enter your registration details to restore drivers
Discussion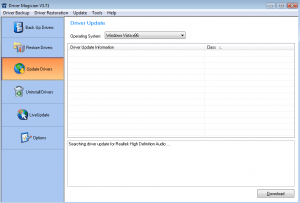 Driver Magician is one of the programs that can make your life easier. No need to manually go through and update your drivers anymore. No need to worry about backing up your own drivers or how you will restore them if something goes wrong. Driver Magician can do all of that for you and then some.
Driver Magician is a paid program, but you do get a 15-day free trial. This way you can fully test out the program before you buy it. During this time you will have access to most of the program's features. I say most, because I was unable to download updates the program found for my drivers. It prompted me to of course buy the full version to do so.
Although the program comes with a lot of features, the main ones that you need to worry about are: Backup, Restoration, Update and Uninstall. Each feature is pretty self-explanatory, but let's go through them just in case. Backup allows you to back up the state of your drivers on your computer. This backup file can be saved to any location on your computer. Later, if you need to restore your drivers, simply click on the restoration feature to revert back. My favorite feature was the update, because I hate manually checking which drivers need to be updated. Last, but not least, is uninstall. This allows you to remove any driver you want from your computer. With all of your drivers listed right in front of you, finding the driver you want gone has never been easier.
Of course the program is not all sunshine and lollipops. My biggest problem with the program is how slow it is. Simply backing up the drivers on my computer took well over 30 minutes. Maybe I have more drivers on my computer than others… but I like to think I fall in the average category. I did not attempt to restore my drivers for fear of how long it would take. Searching for updates went fast enough, but since the unregistered version does not allow you to download and install the updates it finds, I am not sure how it handles this process or if it is slow as well.
CONCLUSION AND DOWNLOAD LINK
This program is pretty good. However, driver management is not an art; there are many (freeware and shareware) driver managers out there. If I am going to pay for a driver manager, I expect it to not be painstakingly slow in backing up drivers. For some, the speed of backup may not be a deal breaker because it is not like you will run a backup everyday — you will only run a backup once in a while. For me, however, it is; I am not sure if I can recommend you paying $29.95 for a slow program. If I am going to pay for a driver manager, I want it to be quick. There are plenty of free ones out there that I can use that are slow. If I pay, I want it to improve speed.
If you are looking for free driver managers, two fairly decent ones I can think of off the top of my head are Double Driver and DriverMax. The latter has driver updating capabilities, too.
Price: $29.95

Version reviewed: 4.00

Supported OS: Windows 98/ME/2000/XP/Server 2003/Vista/7/8
Download size: 4MB
VirusTotal malware scan results: 0/46
Is it portable? No
Related Posts