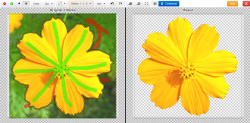 Let's face it. Removing the background of any image is a very tedious task. Besides, not all of us are capable of editing photos using GIMP or Photoshop. So what if there comes a time in which you'll be left without a choice but to do so? The built-in eraser tool of your image editor might come in handy but it won't be good enough. You'll definitely need a more reliable and more accurate image background remover. Speaking of which, let's find out how Clipping Magic can help you solve your problem.
What is it and what does it do
Main Functionality
Clipping Magic is a free online tool that you can use to easily remove the background of any image or photo. Since it's a web tool, there's no need for you to download or install any software, plug-in or extension. Just load it on your web browser then upload the image that you want. After which, you're all set to mark the areas that you want to keep and remove. If you are not sure of what you're doing, you can always refer to its free online tutorials and Help section.
Pros
Easy to use, Neat and responsive UI
No download or installation required
No user log-in or registration required
Supports drag and drop for uploading image files – you can upload images of up to 4 megapixels (2280 x 1750) in size
There's a separate section for users who needs Help and Tutorials
Provides a side-by-side comparison of your image file – the image on the left panel is your working file while the image on the right panel is your output file
Provides a full set of tools and options for removing image backgrounds – there are also tools for refining images with rough edges and bad contrast
You can download and save your file to your computer in PNG format
Cons
At the time of this writing, Clipping Magic is in beta. While in beta, images larger than 4 megapixels are shrunk to 4 megapixels; you can upload whatever size image you want, but they will be shrunk
Developer says "the service is free while in beta", meaning you may have to shell out $$$ if you want to use once it is out of beta
From a privacy standpoint, it isn't very clear what happens to images after you upload them to Clipping Magic to edit — are they deleted after you are done, stored for a certain amount of time, what?
Website is not mobile optimized… but then again, most people probably wouldn't have a powerful enough mobile device to do such type of editing
Discussion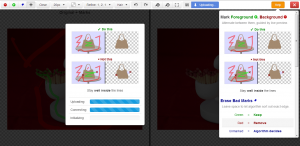 I find Clipping Magic very useful especially when it comes to removing the background from those images with intricate sections and rough corners. It also flaunts a user-friendly and responsive interface so it won't take long before you get fully accustomed to its tools and options.
What's great about Clipping Magic is that it's web-based – which means that you don't have to install any additional software, plug-in or application. All you need to do is to go to its official page (see link below) and then you drag and drop the photo that you want to edit to its "drop-zone". Alternatively, you can manually browse and upload the image from your file directory by clicking the "Choose File" button. Once done, your photo will be automatically placed on its editor.
As for the background removal and editing part, Clipping Magic will show you a side-by-side comparison of your photos. The photo on the left panel will be your working file. It is where you apply the necessary markings to remove the background. On the other hand, the photo on the right panel will serve as the output file. All of the changes that you will make in your working file will be immediately applied to your output file so you can edit and see the outcome at the same time.
Just keep in mind that you must properly mark the sections of your image. Use the foreground brush (the green highlight) to mark the sections that you want to keep then use the background brush (the red highlight) to mark the sections that you want to remove. You don't have to mark all of the areas on your image. Just make sure that the markings that you've made won't overlap. Once you're done, the web tool will automatically apply the changes that you've made and if you're satisfied with the outcome, you can download the output image to your computer. To preserve its transparency, your image will be saved as a PNG file. It is also important to note that this web tool is currently in beta so some features might be added in its future versions.
Conclusion and download link
Clipping Magic offers a quick and hassle-free solution for removing backgrounds from photos and images. This tool does not go beyond what it is intended to do but it certainly does its job very well. It's also very easy to use. Overall, this is worth a look — especially since it is a web-based tool and you need not download anything.
Price: Free

Version reviewed: Beta

Requires: Works on any web browser (Chrome, Firefox, Safari, Opera, IE, etc.) on any desktop operating system (Windows XP, Vista, 7, 8, Mac OS X, and Linux)

Related Posts