If you're in love with Windows 7 gadgets then you might be astonished by the fact that Windows 8.1 doesn't consist of gadgets and there's no direct way of re-installing gadgets back on windows 8.1 . However there's an application called 8GadgetPack that offers to bring back Windows 7 gadgets onto Windows 8.1 .
Upon installing 8GadgetPack, a sidebar is added on your desktop to which you can add gadgets you had in Windows 7 . You must install 8GadgetPack as administrator . Since 8GadgetPack is an MSI package , you must configure your registry editor to be able to install it as administrator . Read the tutorial on how to install MSI packages as administrator .
How to add Windows 7 gadgets to Windows 8.1
Step 1 : Download 8GadgetPack . Right click 8gadgetpack.msi and choose Install as Administrator.
Step 2 : Follow the on-screen instructions to install the package .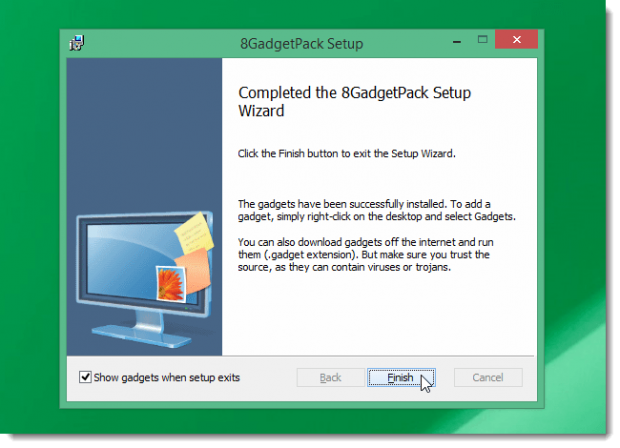 Step 3 : After installing , some gadgets will be already placed on your desktop . To add more , click the plus button located top right of the sidebar .
Step 4 : A pop up appears with a range of gadgets to choose from just like you had on Windows 7 . To add a gadget , drag the gadget to sidebar or double click on it .
Step 5 : To place your gadgets out of the sidebar , hover your mouse over the gadget . You'll see a small toolbar next to it . Hold the dots and drag it to any place you like on the desktop .
Step 6 : To edit the gadget , move your mouse over the gadget and click the wrench icon that appears on the small toolbar .
Step 7 : 8GadgetPack also allows you to view and access open applications . To do so , click the window-manager button located at the top of the sidebar . Click an open program to open it or click the window-manager button again to view the gadgets .
Step 8 : To edit the sidebar , right click an empty space on the sidebar and select Options . You'll be presented with a range of settings to make .
Conclusion
If you wish to have Windows 7 gadgets back on Windows 8 then 8GadgetsPack is one of the methods of getting back some of the Windows 7 gadgets without having to download them all over again .
Image Source : howtogeek.com
Related Posts