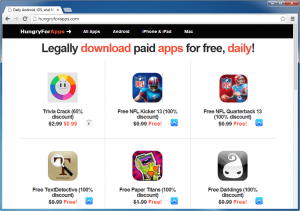 Hey friends,
After the huge success of SharewareOnSale, dotTech's sister site that focuses on daily giveaways and discounts for Windows and Mac software, we have decided to venture into the world of apps. More specifically, we wanted to create a SharewareOnSale-like website but for Android, iOS, and Mac apps. And thus we did: meet HungryForApps.com.
Like SharewareOnSale, we will be featuring daily giveaways and discounts on HungryForApps. However, whereas SharewareOnSale is for Windows software (and occasionally Mac), HungryForApps is focused solely on apps from Google Play Store, Amazon Appstore, Apple App Store, and Mac App Store. If HungryForApps takes off like we intend, we plan on covering daily giveaways and discounts for Windows Store and Windows Phone Store in the future.
Please note:
We don't yet have Android/iOS/Mac apps ready for HungryForApps but the website — HungryForApps.com — is mobile optimized so you can easily view it on your mobile device.
Our aim for HungryForApps was to produce a clean minimal design and I feel we accomplished that very well. Feel free to let us know what you think about it.
HungryForApps is new and it is bound to have bugs and room for improvement. We need your feedback to iron out issues and to tweak the design to make it more user-friendly. Please do let us know in the comments what you think!
That said, the process of downloading apps from HungryForApps is very straightforward. Simply head over to HungryForApps.com, find an app you want to download, click on its name or price, and then click the orange Download It Now button. You will then be prompted to enter your email address and, after you enter it and click the Click Here To Download App Now button, you will be redirected to the page on the respective app store from which the app is available from. You then download the app directly from the app store (e.g. Play Store, App Store, etc.)
After you enter your email address once in HungryForApps, you will not be asked to enter your email address again when downloading apps for the next thirty days or until you clear browser cookies or unless you use a different computer or device. In other words, enter your email address — when prompted — and you can easily download all the other apps on HungryForApps without entering your email again.
So… yeah. There you have it. Enjoy and please do provide us with feedback!
Take care,
Ashraf
Mr. Boss @ dotTech, SharewareOnSale, and HungryForApps
Related Posts