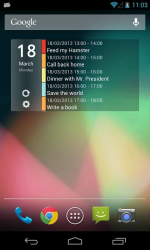 Can't seem to find the right widget for displaying your month-long agendas? Well, you're definitely not alone. The thing is, you might have a widget for your phone or tablet's default calendar app but it might not be something that would suit your preferences. If you are a busy person, then it would be best for you to have a calendar widget that would also show a list of your upcoming events and plans. Now, let's find out if Clean Calendar Widget can give you the features that you want.
What Is It and What Does It Do
Main Functionality
Clean Calendar Widget is a free calendar widget for Android that is designed to display not only your calendar but also your list of agendas for the entire week or month. It is a very simple widget that you can place on your home screen plus it looks very neat. You can also configure its settings in any way that you want plus it's semi-transparent so it perfectly blends with your home screen wallpaper or image background. Aside from its free version, Clean Calendar Widget also has a Pro version that you can download via the Play Store for $1.29.
Pros
Neat-looking, very easy to use
Flaunts a minimalist theme which is semi-transparent
Shows a list of your events and agendas
Configurable settings and options
You can specify the time duration of events and agendas that you want to show – you can show a list of events that's good for 180 days or six months
The widget will automatically refresh your list according to your preferred refresh time interval
Cons
The features of the free version are very limited. You'll need to upgrade to its full (Pro) version in order to unlock the rest of its features and options.
You cannot change its viewing mode – so you only have the list view. There's no grid view.
The widget is not resizable – there also no other widget size options for the free version
Discussion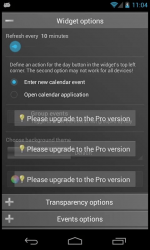 Just like what its name suggests, Clean Calendar Widget is a simple calendar widget that flaunts a minimalist design. It has a free version and Pro version. The latter is a paid app with more features while the former has a limited set of features. Nonetheless, the free version itself is good enough for daily use.
Functionality wise, Clean Calendar Widget works pretty fine. It doesn't flaunt a lot of unnecessary elements. It is also very easy to configure and install. Just download the app to your device and then you go to your home screen. Long-press on any vacant section of your screen and then choose the option for adding "Widgets". After which, select the widget for "Clean Calendar Widget" then drag it to any empty section of your home screen.
If you are using the free version, then you're only allowed to select and add the 4×2 calendar widget. If you want to use a different widget size, then you'll need to upgrade to its full version. Anyways, the configuration panel will automatically load as soon as you add the widget to your home screen. It is where you can opt to change or adjust the widget's default settings. It's just that in the free version, users are only allowed to change the refresh rate, event duration, transparency and call to action option. The rest of the options are locked.
As for the widget's interface, it will basically show you the current date and day together with the list of your upcoming events and agendas. Since its theme is semi-transparent, it can easily fit in to the design of your home screen and it looks great especially if you blend it together with your clock and weather apps. It's just that this widget isn't resizable plus you cannot change its viewing mode to show a grid calendar. It would definitely be great if there were more options available for its free version.
Conclusion and Download Link
I like the simplicity of Clean Calendar Widget. It's a very good widget that doesn't show off a lot of unnecessary elements. What I don't like about this widget is that the features of its free version are too limited so if you want to make the most out of it, you'll need to upgrade to its Pro version. Nonetheless, it is definitely worth checking out and if you don't mind spending some of your spare cash, I would strongly suggest that you upgrade to its full version.
Price: Free, Pro – $1.29
Version reviewed: 2.11
Requires: Varies with device 
Download size: Varies with device 
Clean Calendar Widget on Play Store
Related Posts