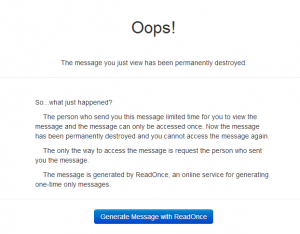 There are a lot of reasons why one should start sending "self-destruct" messages. First and foremost, you get to do one of those things that you once thought can only be done by a secret agent. Practicality wise, it helps protect your privacy since your messages will automatically self-destruct within just a couple of minutes or even seconds. So if ever you feel like sending one, you can opt to use this free online service called ReadOnce.
What is it and what does it do
Main Functionality
ReadOnce is a free online service that you can use to send messages that can only be read once. Nowadays, these types of messages are more popularly known as "self-destructing messages". Unlike the usual way of sending messages, ReadOnce will automatically delete or destroy your message right after a certain period of time. Its functionality is similar to SnapChat but unlike the latter, this online service does not require you to install any software or app. Just load its official webpage on your web browser and then you're all set to upload and send your self-destructing photos to your contacts. All you need to do is to share its Public URL.
Pros
Easy to use
No download or software installation required
No log-in or user registration required but if you want to keep track of the messages that you've sent, you are free to create a free user account
You can set the self-destruct time for your message – it should be between .999 milliseconds and 59.999 seconds
You can upload and send different types of files such as songs (audio), videos and images – for as long as it won't exceed the maximum file size limit of 5MB
You can send a plain text message instead of uploading a file
Provides advanced features such as bit.ly URL shortening, access log and message administration
You can renew or reactivate the deleted message
There is no limit to the number of self-destruct messages that you can send
Cons
Your recipient can still save a copy of your self-destructing message by taking screenshots
There's a limit to the type of files that you can send. For audio files, you're only allowed to send files in .mp3, .ogg and .wav. For video files, you can only upload files in .mp4, .ogv and .webm. As for images, you can only upload files in .jpg, .png, .gif and .bmp formats.
Discussion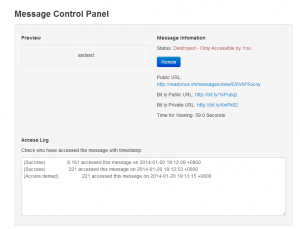 What's great about ReadOnce is that it is not only limited to one platform. For as long as your device can run a browser that supports JavaScript and Clipboard, then you are free to send an unlimited number of self-destruct messages to your recipients. The way how this free online service works is also very simple.
First, you need to visit the official page of ReadOnce (see link below) and then you click its "New Message" button. After which, you will be taken to its file upload/compose text page. From thereon, you can set the time that you want your message to be viewed. This could be between .999 milliseconds and 59.999 seconds. After that time, the message will be automatically destroyed and it will no longer be shown to your recipient.
After you set the time, you can choose the type of self-destruct message that you want to send. With ReadOnce, you can either upload a file or compose a text message. If you want to upload a file, just click the "Choose File" button. Do remember that there are limitations to the type of files that you can send. As of now, users are only allowed to send audio, video and image files of specific formats. You cannot use this service to send documents or APKs. There's also a file size limit of 5MB. As for the second option, you can just type the text message that you want. After which, you can opt to mask and shorten your message's Public URL using bit.ly. This way, your recipient won't be able to know that you are actually sending a self-destruct message. Once you're done, just click the "Generate" button to get your message's Public URL and Private URL. The former is the one that you should share to your recipients while the latter is for your personal use so that you can monitor and renew your self-destructing message.
All in all, I find ReadOnce quite useful especially at times when I want to send messages that are only accessible for a very short period of time. It's also good for sending teasers and quirky images. It basically does what it is intended to do. Just remember that there's still a way for your recipient to keep a copy of your message and that is through screenshots.
Conclusion and download link
ReadOnce offers a good way to help keep your messages private but it does not totally guarantee that all of the messages that you will send will not be stored or captured in any way. If your recipient manages to take a screenshot of your message, then there is no way for this service to revoke or destroy that copy so you better be wary of the types of files and messages that you want to send. Nonetheless, if you are just looking for a fun way to surprise your pals, go ahead and check it out.
Price: Free

Version reviewed: N/A

Requires: Works on all web browsers (Chrome, Firefox, IE, Opera, etc.) on all desktop operating systems (Windows XP, Vista, 7, 8, Mac OS X, Linux, etc.)

Related Posts