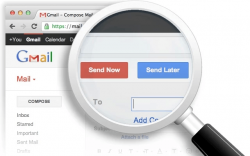 Gmail is definitely one of today's most popularly used email services. Feature wise, it has almost all of the essential tools that you need to create, send and manage your emails. However, there are still a bunch of things that it cannot do such as allowing you to schedule your emails for later. This is where Right Inbox comes into play. Let's find out how this free tool can help you make the most out of your Gmail email account.
What is it and what does it do
Main Functionality
So what is Right Inbox? It's basically a free browser extension that you can use to integrate some interesting features and options to your Gmail account. Through this extension, you can do things that you never once thought you can do using Gmail. Like, for example, you can schedule your emails so that you can send them at a later date or time. Aside from this, Right Inbox will also allow you to set email reminders for your important emails. What's also great about this free browser extension is that you can use it on other web browsers such as Safari and Firefox.
Pros
Easy to use
Automatically integrates with your Gmail account
Also works with Google Apps
Lets you schedule your emails at a later date or time
Lets you set some important email reminders
Also available on Safari and Firefox
Cons
Free users are only allowed to schedule up to ten emails per month. The number of emails reminders that you can set is also limited to ten. If you want to lift this limit, you'll need to upgrade your account ($5.95 per month)
Not compatible with Gmail for mobile (aka you will have to use Right Inbox via your desktop or laptop)
Doesn't work with other email services such as Yahoo! Mail, Outlook, Zoho, etc.
Discussion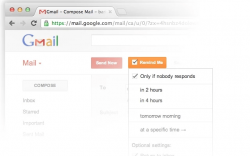 Right Inbox is a pretty straightforward tool that is designed to automatically integrate with your Gmail account. So all you need to do is to install it on your web browser. What I like about this tool is that it is not only limited to Chrome. You can also install its browser extension on Safari and Firefox. There's also no need for you to install any additional software or application to your desktop.
To use this extension, all you need to do is to follow these three easy steps. First, you must download and install the appropriate extension to your web browser. If you are using Chrome, then you need to download and install the Right Inbox Chrome extension through the Chrome Web Store (see link below). After which, you will get a notification that the said extension has been successfully installed on your web browser. Now, the next thing that you need to do is to visit or log-in to your Gmail account. If you're already on Gmail, just reload it so that you can verify and allow the extension to access your account.
Once done, just click the "Compose" button and create a new email. Choose your recipient and type your email subject and message but instead of clicking the "Send Now" button, you need to click the button for "Send Later". By clicking this button, you can opt to send your email at a later date or time. Of course, don't forget to specify the time and date or if you want, you can just set a fixed time interval.
As for email reminders, you can just select any of your existing emails. This could be your sent mails or the emails that you have on your Inbox. To create a reminder, just click the "Remind Me" button on the top menu and thereafter, you can set your preferred parameters. I find this feature quite useful especially if you're trying to keep track of your important emails such as your business solicitations and job application letters.
Conclusion and download link
All in all, I find Right Inbox very convenient to use plus it's definitely great for users who are mainly using Gmail to keep in touch with their clients, customers and even their employers. Needless to say, this free web browser extension is good for casual and business use although the lack of support for other email services — notably Outlook Exchange — will hurt its usefulness. Just keep in mind that if you are a free user, you're only allowed to send up to ten scheduled emails per month. The same goes for email reminders. So if you want to send an infinite number of scheduled emails, you'll need to upgrade to a $5.95 per month paid account — a small price if you use the functionality often, although probably a bit too high for casual users.
Price: Free, Paid – $5.95 per month

Version reviewed: 3.1.4

Requires: Google Chrome, Safari and Mozilla Firefox on desktop operating systems (Windows XP, Vista, 7, 8, Mac OS X, Linux, etc.)

Related Posts