If you have a photo or image that just needs resizing, perhaps for a forum avatar or email attachment, image editing software is not required. Instead you can resize the photograph via a photo editing site that includes suitable options. Among them is the Shrink Pictures site.
The Shrink Pictures site is one that includes options with which you can reduce your image sizes. It doesn't have any options for expanding images, but as that can put them out of focus it's usually best not to anyway. Here's the page link.
On that page select the Choose option to open your folders. Select a suitable photo to resize. They cannot be any larger than six megabytes in size. They should also have JPG, GIF and PNG file formats.
Under the Choose option you can select a few alternative resize check-box options. Select one of the percentage check-box to cut the image size by one-quarter, a half or three-quarters. Alternatively, input a custom pixel size under 1,000.
Below those options you can select to convert the photo to either grayscale or sepia. To do so, make sure you tick the Apply an image Special effect check-box. Then select either the Grayscale or Sepia options.
Select a suitable resized image quality check-box, and then click Resize. The page below should open with your resized photo. You can right-click the image and select Save as, or click the Download this picture Now option.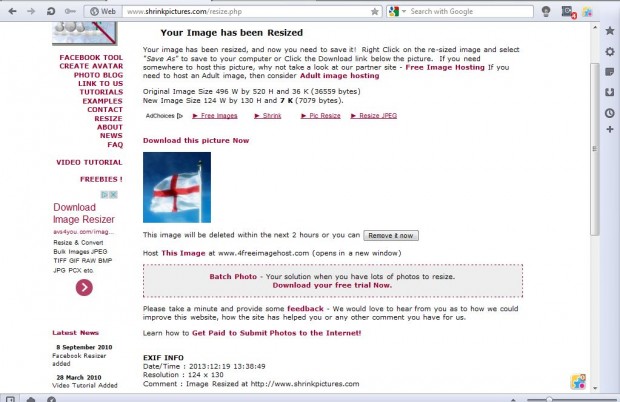 If you require an avatar sized image, check out this page. That page includes options to turn your favorite pics into forum avatars. Check the largest size permitted for the forum avatars, and then select the Choose option on the page to open a photo. Set the avatar size to 200 or below. Click Resize to open the page below.
From there right-click a photograph, and then Save image. The site page states, "If your Forum supports Uploading an Avatar from a Remote site, select the code below the picture you want it to upload for you." Ctrl + C and Ctrl + V are the shortcut keys to copy and paste text.
Thus, with Shrink Pages you can resize your photos without any image editing software. The site resizes the photos effectively, and converts them to black and white or sepia. There are also a few other alternatives such as Pic resize and Web Resizer.
Related Posts