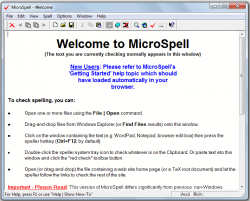 Nobody's perfect but if your primary concern is to avoid making the same spelling mistakes, then there's no reason for you to feel dejected. After all, we're now living in a modern era in which you can easily recheck and proofread your work. Besides, most of today's word and text document processing software have a built-in spell checker. It's just that it would be much easier if you can just use a universal program to check and recheck all of your documents. Speaking of which, let's find out if MicroSpell has the features that you're looking for.
What is it and what does it do
Main Functionality
MicroSpell is a universal spell checker for Windows. With MicroSpell, you can spell check HTML, TeX/LaTeX, RTF, and ASCII plain text documents. It also features a hotkey spell checking function which allows you to directly check and recheck spelling of text in almost any program — Notepad, WordPress, email clients, browsers, etc.
Pros
Can thoroughly check your documents for spelling mistakes and typographical errors — HTML, TeX, LaTeX, RTF, and Plain Text supported
Aside from working with documents, you can check text in almost any application or window by using MicroSpell's Hotkey Spell Check option
Features two spell checking interfaces – one for "simplicity" and one for "greatest productivity"
Has a "Web Lookup" function – this feature allows you to directly search the web for word definitions, synonyms, antonyms, etc.
Has a built-in intelligent spelling assistant – automatically suggests the correct word
Features multiple dictionaries and full document editing options
Can check or recheck multiple documents at once
Configurable settings
Cons
A bit outdated but still very functional
It could take a while before you become fully accustomed to its features and functions
The Hotkey Spell Check tool doesn't work
Is free for personal use only
Discussion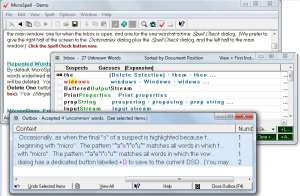 I find MicroSpell very handy especially for people whose tasks are mostly related to writing, proofreading and research. It's just that if you're a new user, I highly suggest that you read its "Getting Started" page first or else, you won't be able to fully understand how it works.
Anyways, what I like about this program is that it can thoroughly check your documents for spelling mistakes. This includes all sorts of spelling-related elements such as capitalization mistakes, typos and repeated words. Aside from this, this spell checker also flaunts two types of spell checking interfaces – one is meant for "simplicity" or word-by-word spell checking while the other is for "greatest productivity and efficiency" which basically means that it will display a list of all your document's misspelled words.
Another thing that I like about this program is that it can simultaneously check multiple documents. So you're not limited to just checking one document at a time. This spell checker also supports drag and drop so all you need to do is to drag and drop the document that you want to check to its window and then you click the "Start/Stop Spell Check" button. This is the button that looks like a red check mark.
It should also be noted that this spell checker has the ability to directly check your documents on their original locations so there's no need for you to copy or upload them to this program's spell check window. Like, for example, you can directly check the document that you've written in Notepad. All you need to do is to enable this tool's hotkey spell check function. By default, you can spell check documents in other windows or applications by using the CTRL+F12 hotkey function. However, for some reason, this function doesn't seem to work on my end.
Functionality wise, this free universal spell checker for Windows works well and except for its hotkey spell check problem, it did find all of the spelling mistakes, repeated words, capitalization mistakes and typos that I specifically included in my test document. It's also a bit outdated (its last update was published on 2004) but it can still do a very good job and truth be told, it has way more features than those free spell checkers that you can find online. It may take some time before you can fully get accustomed to its features and functions but you can always refer to its Help file and Support page whenever you feel confused or lost.
Conclusion and download link
I wish I could say MicroSpell is old but still gold, but that simply isn't true. If the program worked with all advertised functionality, than maybe I'd praise. As it stands, however, only half of its features work — you can spell check support documents but cannot spell check text in programs and browsers due to hotkey feature not working. You are more than welcome to try MicroSpell but I personally recommend PhraseExpress.
PhraseExpress is a free program (free for personal use only) who's aim to help you type faster. Among its features is a built-in spell checker that allows you to check spelling in almost any program or window. It truly is a winner. If you need a universal spell checker, PhraseExpress is the way to go.
Price: Free (for personal use)

Version reviewed: 9.1h

Supported OS: Windows 95, 98, NT, 2000, and XP

Download size: 2.89MB
VirusTotal malware scan results: 0/48
Is it portable? No
Related Posts