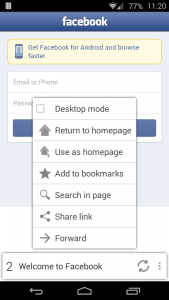 When it comes to internet mobile browsing, one of the most important things that you should consider is the speed and reliability of your mobile browser. Come to think of it, no user would ever like to browse the web like it would take forever. Unfortunately, not all browsers are fast and reliable enough to suit your needs. Of course, there are also those that you can truly depend on. Speaking of which, let's find out if Kronia Browser has what it takes to provide you with a pleasant and productive mobile browsing experience.
What Is It and What Does It Do
Main Functionality
Kronia Browser is a simple and lightweight mobile browser that is fully compatible with Android tablets and smartphones. Just like today's most commonly used mobile browsers, it basically allows you to access the Internet and browse your favorite websites and blogs. It also flaunts a simple and non-obtrusive user interface that supports multi-tabbed browsing, incognito browsing and bookmarks. In addition to this, Kronia Browser also uses side panels to view and manage your recently opened tabs.
Pros
Simple and minimalist UI
Lightweight and fast – this includes the page loading and start-up
Supports multi-tab and incognito browsing
Features side panels for viewing your bookmarks as well as your recently opened tabs
Allows web pages to be viewed in "desktop mode"
Has a built-in "Search in page" and "Share Link" function
Supports simple gesture controls – ex. you can easily switch tabs using the two-finger side swipe function
Cons
Shows Google and YouTube in Italian by default (which can be annoying to non-Italian users)
Requires Android 4.0 and up
Discussion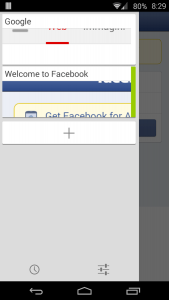 For avid Android users, it is very important for them to be able to browse the web without any annoying glitches or errors. The speed and stability of the browser also matters. Of course, no one would ever want to browse the web with super slow page loading time. It is also very important to have a browser that is lightweight and easy to use. Well, it's not like there aren't good mobile browsers out there that would suit your needs and preferences. As a matter of fact, there are a lot of them. It's just that there are times when you would feel that it would rather be best for you to have a browser that doesn't have too much of everything and yet, still reliable enough to give you a speedy performance that is free from glitches and lags. This is what the Kronia Browser is all about.
In other words, Kronia Browser takes the concept of simplicity in an entirely different perspective. It's simple yet very reliable. It can quickly open and load web pages (even those that are loaded with heavy graphics) plus it even supports incognito browsing so you can search the web privately without leaving any trace on your browser's search history. Other than this, this mobile browser also supports multi-tab browsing allowing you to open and leave other tabs in the background.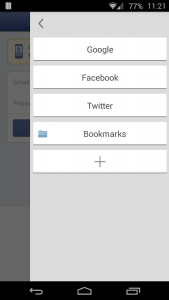 Design wise, I like the fact that this mobile browser sports a responsive minimalist UI that supports simple gesture controls. It is also important to note that unlike other browsers, the address bar of Kronia Browser is located at the bottom and it automatically hides itself when not in use. If you want to open it back, just do a quick swipe down on the screen. To view and manage your opened tabs, just swipe to the left side of your screen and if you want to access your bookmarks, just swipe to the right side of your screen. If you want to switch in between tabs, just do a two-finger side swipe to view your other tabs.
So far, I haven't experienced any serious issues with this browser. It's actually very fast and stable. It's also user-friendly and it wouldn't take a long time before you can fully get accustomed to its gesture controls. I just noticed that whenever I search for specific sites such as Google, YouTube and even Tumblr, the browser shows the search results in Italian and not in English. Nonetheless, this is just a minor issue that doesn't really have a major effect to its user's overall browsing experience (although, I have to admit that it is slightly inconvenient).
Conclusion and Download Link
If you are looking a good alternative for your device's native mobile browser, I highly recommend that you give Kronia Browser a try. It's a fast, stable, lightweight and user-friendly mobile browser that you can use anytime. So go ahead and check it out.
Price: Free
Version reviewed: 2.1
Requires: Android 4.0 and up
Download size: 436KB
Related Posts