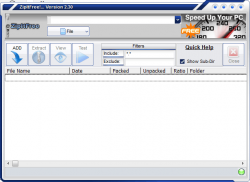 Why would you even need an alternative to WinRAR or WinZip when even after it's trial period has expired, it still practically gives you unlimited usability? It reminds me of that friendly neighbor who lends you his umbrella and because it's an item that he barely uses, he hints that he wants it returned but doesn't bother you too much about it. Okay, that's a weak analogy but my point was that WinRAR/WinZip does little to convince you to actually purchase a license. Some of us feel either guilty about using it in this way, dislike it or find the constant reminders to purchase a license annoying. There are freeware alternatives out there that offer a greater range of functionality and maybe ZipItFree is one of those alternatives.
What Is It and What Does It Do
ZipItFree is a file compression and decompression software. It aims at providing a freeware alternative for WinZip and WinRAR. It caters for a long list of compression methods and has options to password protect compressed archives. According to its website and download page, it uses a compression technology called advanced Black Hole Super 5X to compress your files as much as possible. By the superfluous name, you can tell it's more download bate than an actual reality.
Pros
Lightweight
Has automatic windows shell context menu integration
Supports an array of archive formats: ACE, ARC, BH, BZip, CAB, GZIP, JAR, LHA, RAR, TAR, UUE, XXE, ZIP, Zoo, and Archive Stream
Offers fast compression and decompression
Cons
Although it claims to support RAR, it doesn't work well with it
Compression and encrypting archives is a little unintuitive
Displays ads on the interface from time to time
The user interface design is a little tacky
Does not run from system tray
Discussion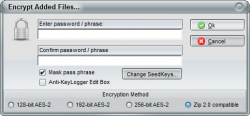 It goes through a very basic installation process with a usage agreement to tick like most software. It was probably mentioned somewhere in there that there was going to be some advertising on the user interface from time to time but I never really read through agreements. I wonder if anyone ever does. The default user interface has a metallic look and feel from the title bar to the base user interface.
The title bar consists of five buttons for user face control. Each one is either used to close the screen, maximize it, minimize it or put it in mini mode (respectively). Underneath that, is the base user interface. On the top left corner is a a logo followed by a URL text drop down field that links to a archive. When you open a file from the file menu button, just beneath it, it will display a path to that zip archive. After you open a file, it will display its contents under the file contents table. The file contents table which sits just above the status bar,  displays a list of values along with the file list, including the date and the size of a file when it's packed and unpacked. If you select a file or sub-directory on this table, it will display the same details under the status bar and this does seem somewhat redundant but a limited array of options to perform a task narrows the mind (So I've heard).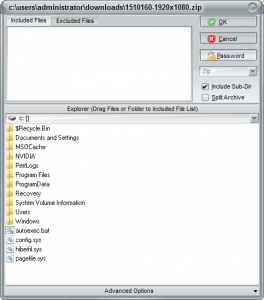 You can append files onto an archive by clicking on the Add button. This brings up an add screen with its own mini file explorer and from this you can drag files into the archive. I really liked this aspect of the application. It utilizes the same look and feel as the rest of the application but it feels a lot more visceral than the rest of the application. From here you can also password protect the archive.  This offers four different types of encryption options(128-bit AES-2, 192-bit AES-2,256-bit AES-2 and Zip 2.0 Compatible). From the password encryption screen, you can also choose to edit the seed keys that the encryption utilizes. I like how simple it is to do this and how it comes off so understated. It's an advanced feature presented in such a simple package and it is done extremely well. Though most boffins may argue that it's not enough to protect their archives from the prying eyes of the NSA, I think it's amazing.
Back on the user interface, you can also extract, manipulate the view or test selected zips. There's a quick help link on the user interface; when clicked it will link you to a quick flash video on their website that explains some of the base functions of the application. This is a nice feature. When you're done with an archive and want to start working on a fresh one, you can click on the (archive) close button which sits just under the ad section of the application and directly on the left of the quick help link. Usually the advert section only ever starts displaying anything when the user starts working with the application. As soon as you open a file, an ad will appear, usually promoting software by the same developers (Microsmart). If you click on the ad, it will take you directly to the advertised application's download link.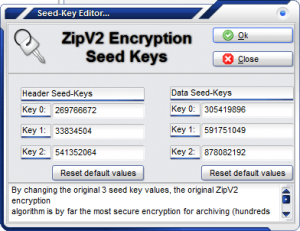 Though some of it's usability may be impressive, I had a few issues with this application. It doesn't work with 7z files but that's understandable, not a lot of applications have that support. A major gripe for me is that it claims to archive and unzip .rar files when in fact, it doesn't so it makes a lousy alternative for WinRar. If you try to open a .rar archive, it will display it as empty under the file content table. If you try to unzip the folder from the context menu, it will create an empty folder. I don't  like the way the user interface has been designed and how the controls feel haphazardly squashed together. The designer obviously tried to give it a compact feel but ended up making it feel a little claustrophobic. You can change the theme of the user interface but not the language it's in.
Conclusion and Download Link
This application was disappointing to say the least. It doesn't live up to its claims and I found some alternatives that do a better job. It's good for work with zip files but that's as far as it goes. I recommend skipping ZipItFree and grabbing 7-Zip instead. 7-Zip is a freeware and open source archive manager that works with .zip, .rar. 7z, .tar, .tar.gz, and more. And it works nearly flawlessly. Read dotTech's review on best free archive manager for Windows to learn more.
Do you disagree? Do you have any alternatives and advice to contribute? If so, please make your mark under the comments section.
Price: Free
Version reviewed: 2.30
Supported OS: Windows XP/Vista/7/8

Download size: 4.50
VirusTotal malware scan results:  2 / 48
Is it portable? No
Related Posts