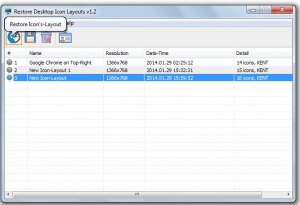 Wouldn't it be nice if you could always have a clean and well-organized desktop? However, this may not be always the case especially if you're constantly dealing with all sorts of files and applications. Like, for example, there are situations in which you keep on saving some new files and documents on your desktop. As time goes by, these files continue to pile up and before you even know it, your desktop has become too messy and it's already too troublesome for you to restore your desktop icons to their original layout. The good news is there's a simple application that you can use to automatically restore your desktop back to how it used to be and it's called "ReIcon".
What Is It and What Does It Do
Main Functionality
ReIcon is a free desktop application that you can use to immediately restore your desktop icons to their original layout. What's even more interesting to note is the fact that this application can save multiple desktop icon layouts so you can save the original layout that you prefer for each screen resolution. Aside from this, you can also integrate this app to your desktop's context (right-click) menu. It should also be noted that ReIcon is a portable app so there's no need for you to install it on your computer.
Pros
Easy to use
Simple and straightforward, neat UI
Can save different versions of your desktop icon layouts – ideal for users who frequently change their screen resolution
Can be integrated to your desktop's right-click (context) menu
You can import or export the list of your desktop icon layouts (supports .ini files)
Configurable settings/user options
Cons
Does not automatically arrange or sort the new files that you've added right after you saved your preferred desktop icon layout – you can align icons to grid but you can't automatically arrange them into one cluster unless, of course, you enable your desktop's default option for "auto arrange icons"
Discussion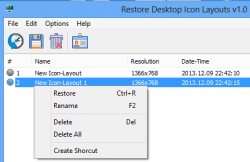 ReIcon can be quite useful especially at times that you need to declutter your desktop. Of course, no matter how you try to keep things well-organized, there will always come a time in which things tend to go out of hand. Like, for example, when you tend to change your desktop's screen resolution just so you could use the wallpaper that you really like. At times like these, it would already be too bothersome to manually restore your desktop's original icon layout. So why go through all the hassle when you can always opt for a smarter and more efficient solution?
With ReIcon, you can easily restore your desktop icons back to the way that they used to be. Moreover, ReIcon is a portable desktop application so there's no need for you to install it on your computer. All you need to do is to download and extract the executable file from its archive and after that, make sure to configure the application's settings according to your preferences. You can do this by going to the "Options" menu and then you check/uncheck the options that you want to enable or disable. Thereafter, just click the "Save" button to save your desktop's default icon layout. The saved version will be automatically added to your layout list. On your layout list, you'll see your desktop's saved icon layout versions together with other important details such as the date the layout was saved as well as the screen resolution.
Now, whenever you make some changes to your desktop, just open ReIcon then select the icon layout that you want to restore. After which, click the "Restore" button and the layout that you chose will be automatically restored. It's as easy as that. To make things easier, you can also opt to add the app's main options to your desktop's right-click (context) menu.
All in all, I find ReIcon very easy to use. It does what it is intended to do and it didn't give me any sort of trouble. I just noticed that whenever I add some new file shortcuts and icons to my desktop, these files won't be automatically arranged even if I click the restore button. Anyways, this isn't a major issue since you can always opt to enable your desktop's default View option for "Auto arrange icons".
Conclusion and Download Link
If you want a hassle-free way to keep your desktop neat and well-organized, I highly suggest that you check out ReIcon for Windows. It's a portable app so you can use it on any computer plus it's very easy to use so you won't have a difficult time figuring out how to configure its options. It may need a bit more polishing but what's important is that it does what it is intended to do. So go ahead and give it a try.
Price: Free
Version reviewed: 1.2
Supported OS: Windows XP, Vista, 7 and 8
Download size: 884KB
VirusTotal malware scan results: 0/36
Is it portable? Yes
Related Posts