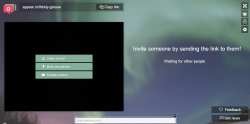 For some, video conferencing is just a click away but what about those who aren't really that fond of using Skype or Google Hangouts? Is it even possible for you to convince them to install a video call and chat application just so you could talk or chat to them via webcam? Well, some of them might say yes but wouldn't it be much better if you can make a video call without even installing any software or application? Speaking of which, you might want to check out this cool web-based video conferencing service called appear.in.
What is it and what does it do
Main Functionality
Compared to other video call and chat applications, appear.in is a web-based group video calling service. What's great about it is that you're not required to login or register. There's also no need for you to download and install any particular app or software. With appear.in, all you need is a stable internet connection, someone to talk to and of course – a supported web browser. As of now, you can use appear.in on Chrome, Firefox and Opera. So if you want to chat or start a video call, just create a chat room and then share the link to your chat room to your recipients. It's as easy as that.
Pros
Easy to use, web-based
No user registration or login required – there's also no need for you to install any software or app on your computer
Neat, stable and responsive user interface
Can cater up to eight participants
Supports screen sharing
Uses SSL/SRTP to secure and encrypt your chats and video conversations
You can claim a chat room as your own
You can lock a room to prevent others from joining in without your permission
You can view or set your chat room in full screen
Cons
You cannot drag, resize or move the chat box
No emoticons for chats
Doesn't support mobile
Works using WebRTC, so it will only work with browsers that support WebRTC; so far, that is Chrome, Firefox, and Opera
Discussion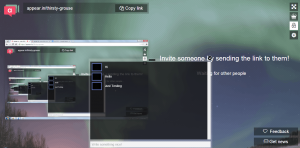 The way how appear.in works is quite simple. Since it's purely web-based, you don't need to install anything on your computer. If you want to start a video conversation, all you need to do is to access its homepage and then you create a chat room (or simply called as "room") by typing in your preferred chat room name in the provided text box. You can create any name that you want but you can also opt to generate a random chat room name like "gamy-salmon", "thirsty-grouse", etc. Once you're done, just click the "Create" button and make sure that you allow the web app to access your webcam and microphone. Just keep in mind that the recommended number of participants in a chat room is only limited to eight. If you go over this limit, there's a possibility for the web app to crash or you might experience some unexpected errors.
You should also keep in mind that every appear.in chat room has a unique link. In order to invite other people to join your room, what you need to do is to send or share your room's link to your recipients. So as soon as they click the link, they will automatically appear on your screen and vice versa. Other than this, you can also opt to keep your room locked so that no one else can join your video conversations.
If you want to gain more control over your chat room, you can own it by clicking the "Claim" button. As a chat room owner, you are given the privilege to secure your room with a password. You can also customize your room by setting your own background image or photo.
Functionality wise, I find appear.in very easy to use. It's hassle-free. The video and audio quality is also good plus it doesn't crash or lag. I also like its screen sharing and full screen functions. Its user interface looks neat and you can also use its chat box to send a message to your recipients. It may lack some tools and options that would make it more user-friendly but what's more important is that it does what it's intended to do and so far, it's doing a good job. It also uses SSL/SRTP encryption to secure your video calls and chats.
Conclusion and download link
What I like most about appear.in is that fact that it's very convenient to use. No need to download or install anything. There's also no need to login or create a user account. It is also very secure and stable plus the audio and video quality is good. As a matter of fact, it could serve as a reliable alternative for Skype or Google Hangouts. So go ahead and check it out.
Price: Free

Version reviewed: N/A

Requires: Chrome, Opera and Firefox on any desktop operating system (Windows XP, Vista, 7, 8, Mac OS X, Linux, etc.)

Related Posts