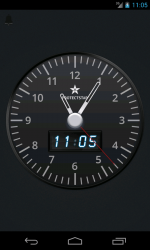 Some things are meant to be shared while some things are not. This is especially true for people who aren't really comfortable of letting others know about their secret hobbies or obsessions. The thing is if you are not extra cautious, your own actions could eventually tip you off. One good example of this is the photos and videos that you're keeping on your Android tablet or smartphone. So if you want to make sure that your secrets won't be exposed, you better take the necessary precautions. Speaking of which, you can use an app like TimeLock to hide your images and videos in a secret vault.
What Is It and What Does It Do
Main Functionality
TimeLock is a free app that is specifically designed to lock and hide your images and video. It's like a high-security vault or safe so no one else can view your hidden videos and photos unless they can successfully figure out the correct passcode. What's even more interesting with this app is that it can disguise itself as a clock. So at first glance, you might think that it's just an ordinary clock but it's actually a vault that contains all of your secret images and videos. If you want to access the vault, you'll need to press the secret button and then you need to move or turn the hour and minute hands to set the correct four-digit passcode. After which, you can close your vault by simply shaking your tablet or smartphone.
Pros
Highly distinctive, simple yet elegant
Easy to configure
The clock is presented in both digital and analog formats
Has a built-in alarm
Has a built-in media viewer
Secure – uses 256-bit AES encryption to secure your personal photos and videos
You can secure your vault using a four-digit passcode
Cons
The vault cannot be viewed in landscape mode
The digital clock cannot be set in 12-hour format
Needs more options for user customization
Needs an "auto-lock mode" option – this is to protect your videos and images just in case you forget to lock your vault by shaking your Android device
Discussion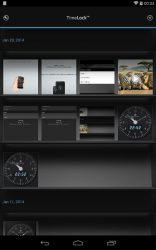 TimeLock is quite a cool app. I like the fact that it can disguise itself as a functional clock and it even has a built-in alarm. This way, you can easily trick people into thinking that what you have on your device is a typical clock. It would even be difficult for them to know that it's actually a vault for your secret videos and photos.
To use this app, all you need to do is to set it up by providing your preferred four-digit passcode. You can set up your passcode right after you press the secret button. After which, just move or turn the hour and minute hands just like the way that you do when you're setting up the time on your analog clock. Once you're done, simply press the secret button once again to confirm your passcode and you will immediately see the vault for your secret photos and videos.
By default, your vault will be empty so you need to manually add the photos and videos that you want to hide from your gallery. Just keep in mind that this step won't automatically delete the said media files from their original folders and gallery so you need to remove them manually. It's also important to note that even if you close the TimeLock app, your vault will remain open. The only way to close it is to shake your Android tablet or phone. This step is very crucial because you'll never know what will happen if you accidentally forget to close your vault. That's why it would be really great if the app can add an "auto-lock" option.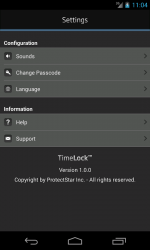 All in all, TimeLock has proven that it's secure and reliable enough to store your private photos and videos. It is also very easy to configure plus it can perfectly disguise itself as a fully functional clock with a built-in alarm. I just hope that in its future updates, it would add more options for user customization since right now, there's only one clock design plus its digital clock can only be formatted in military time (24-hour format). I also noticed that its vault cannot be viewed in landscape mode.
Conclusion and Download Link
While there are certain aspects in which the TimeLock app for Android falls short, I still find it unique and reliable. Its idea of disguising its vault as a clock is also very commendable. So if you're currently looking for a brilliant way to keep your private photos and videos hidden from nosy folks, I strongly suggest that you give this app a try. Just don't forget to shake your device right after you're done viewing the files inside your vault.
Price: Free
Version reviewed: 1.0.1
Requires: Android 2.3 and up
Download size: 3.8MB
Related Posts