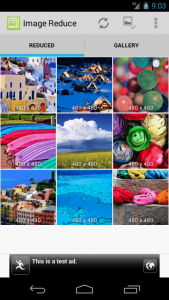 Have you ever experienced a situation in which you're trying to upload a photo to a certain site and yet, you're greeted with a message that your request to upload failed because the file is too large? Well, this scenario is quite common especially if you are often sharing your images to various social networks and photo sharing sites. Apparently, the best possible solution to this is to resize your image and make it smaller but what if you're directly uploading your photos from your Android device? If this is the case, then why don't you check out this app called Image Reduce? It's a free image reduction app that you can download and install on your Android tablet or smartphone.
What Is It and What Does It Do
Main Functionality
Image Reduce is a free image reduction app for Android. Its main function is to automatically reduce the size and resolution of your images so that they're easier to share and upload. With Image Reduce, you can make your large images smaller by simply choosing from its list of presets. You can even create your own preset by providing your preferred image values such as the image width and height. Other than this, this app also features a full set of cool photo effects and filters.
Pros
Easy to use, easy to configure
Neat, well-designed, stable and responsive user interface
Features a wide range of presets for reducing the file size and resolution of your photos/images – you can also create your own presets
Bulk photo selection – you can resize multiple images at the same time
Has a built-in image viewer
You can directly reduce the size of your images from your Media Gallery or File Manager
Built-in sharing tools – you can instantly send or share your reduced images via Bluetooth, Wi-Fi, SNS, Email, Facebook, Instagram, Twitter, etc.
Features a full set of photo effects and filters
You can change the app's UI theme to Light, Dark, Device Default Light or Device Default Dark
Configurable user settings and options
Supports data backup and restore
Supports almost all types of image formats such as JPEG, JPG, PNG, BMP and GIF
Cons
Needs to add some "Warning" messages for requests that do not abide with the app's algorithm – like, for example, when a user tries to set a target size that is larger than the original image file
Needs to add an option that would prompt the app to automatically delete the original file
Requires Android 4.0 and up
Discussion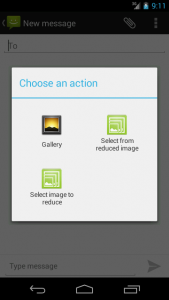 Image Reduce provides a hassle-free way of reducing the size and resolution of your large images. It also flaunts a user-friendly and neat-looking user interface. With this app, all you need to do is to select the image that you want to reduce and then you select the size that you want to send or share to your target device. After which, you can opt to retain your photo's original orientation, file name and date-time.
What I like about this app is that you can directly shrink or reduce your images from your image gallery or file manager. So if you don't want to open the app just to shrink your images, you can just open your gallery, select the photo or image that you want to shrink and then press the "Share Image" or "Send Image" button. After which, select the "Image Reduce and Share" option the choose your target image size and that's it. By default, all your reduced images will be saved in the app's "ReducedImage" folder but you can change this by creating your own destination folder.
Functionality wise, this app is very responsive and stable. The quality of the reduced image is also very commendable. So even if you shrink a 2048 x 1536 image to 640 x 480, it will still look good and not pixelated. I also like the fact that this app can select multiple images to shrink at the same time. It also has a built-in image viewer plus you can also enhance your images by applying some cool effects and filters. Aside from this, you are also allowed to make your own reduced image size preset.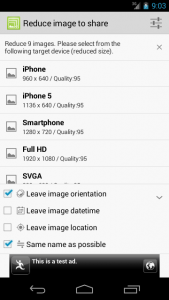 All in all, I can say that this app is really worth checking out. It's definitely a great tool for users who are looking for an easy way to resize or shrink their images. Even so, it would be great if it could add a certain option that would allow its users to delete the original image right after they shrink it to their preferred size. It would also be great if there are warning messages for invalid requests like choosing a target size that's larger than the original image file.
Conclusion and Download Link
I like the way how Image Reduce for Android works. It's a simple yet very useful app that's definitely ideal for users who are frequently uploading their images to various photo sharing communities and social networking sites. It's also great for people who manage their own photo gallery, blog or website. So if you still haven't checked this app out, go ahead and give it a try.
Price: Free (Ad-supported), Paid (Ad-free) – $1.49
Version reviewed: 1.2.0.20140209
Requires: Android 4.0 and up
Download size: 1.3MB
Related Posts