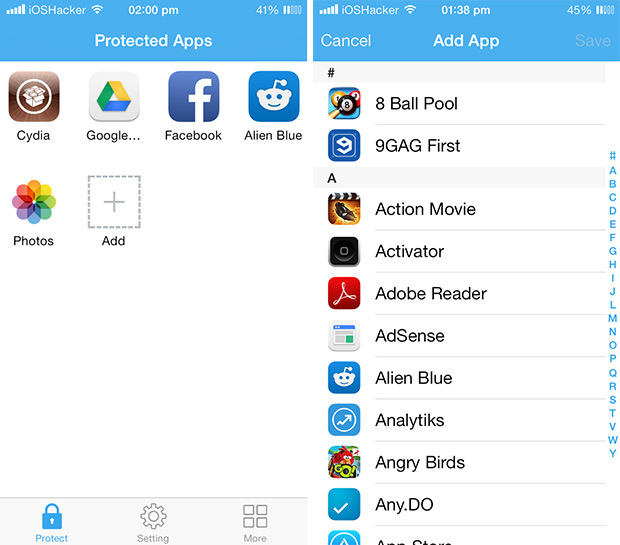 Setting a passcode on your iPhone, iPod or iPad does help you protect your device and keep it secure but what if you're lending your device to a relative or a friend? The best solution is to protect each individual app with a passcode. This way, your most sensitive apps are kept more secure.
iOS doesn't offer an option/setting where you can set a passcode for individual apps however, if you have a jailbroken device, you can do so with a newly released Jailbreak tweak. This jailbreak tweak is called iAppLock and is available in Cydia via BigBoss repository.
When you download the tweak via Cydia, iApplock's app icon appears on your homescreen. Tapping on the icon will open it and display a simplistic interface with three tabs : Protect, Setting, More.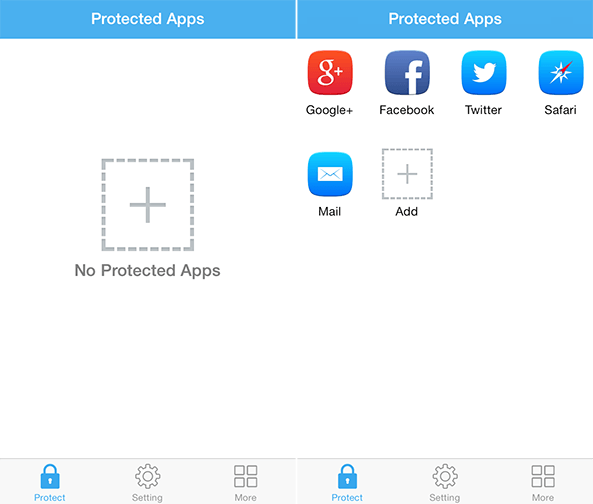 The Protect tab displays the applications that are protected by a passcode . When you open it for the first time, a plus sign is centered on the screen. To add apps which you want to protect with a passcode, tap on the plus sign. This will open up a list of apps arranged in alphabetical order which you can choose from to have it protected with a passcode. The list includes both stock apps and 3rd-party apps. Tapping on the icons will leave a tick mark next to it. Once you're done ticking the apps you want to protect, press on the 'Save' button located in the top right corner of the interface to password-protect the applications. When you or someone else tries to open a password protected app, a pop-up appears where you have to enter the passcode in order to gain access to the app. iAppLock only allows you to password protect a maximum of 5 apps and not more.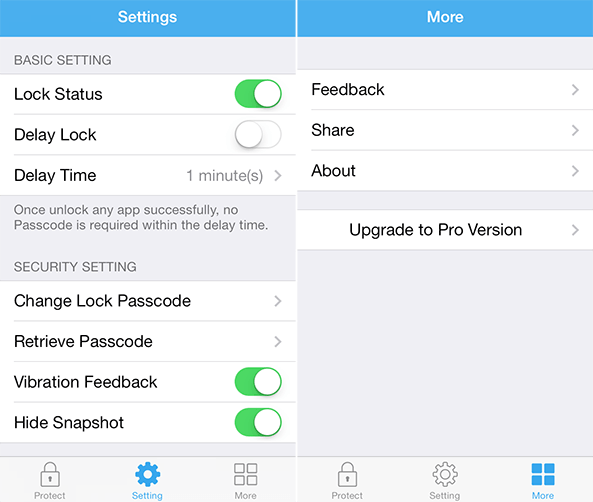 The Setting tab includes a range of configurations you can make. From here, you can enable/disable the tweak as well as set a delayed lock timer so that once you open a password protected app, no password is required for a specific period of time for other password protected apps. The delayed time lengths offered include 1 minute, 5 minutes, 10 minutes, 20 minutes and 30 minutes.
You can as well set a passcode from the settings tab and provide an authentication email for resetting your passcode in case you fail to unlock an app 3 times continuously.
Lastly, the More tab is the place where you can send your feedback to the developer, share the tweak, find more information about the tweak and upgrade to the pro version ( Pro version is still under development).
iAppLock is definitely a flawless tweak that will add an additional layer of security to your device's apps. If you're interested, you can grab iAppLock from Cydia via BigBoss repository for free.
Related Posts