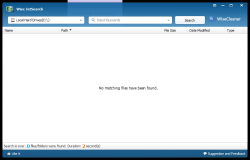 When I was younger, my computer was a maze. Every file was a vagabond and every folder, a squatter camp. I used to lose things a lot, unsure where I placed that new crack for a game I just downloaded or that new album I just ripped. Windows XP's search/find tool has always been slow, tedious and not very fun to use. Instead of searching for a replacement or an alternative, I opted with getting neat and organized instead. Through this method, I seldom misplace anything. I know where every file is. Sometimes when I do bulk file moves, copies or backups, I tend to unintentionally include files that have no business being there. I find music files in my pictures folder and applications in my music folder. That's the only way I lose files. I find myself re-downloading something I downloaded earlier because I moved it by mistake and can no longer find it. I'll ritualistically download a file again, only to find that I've downloaded it before but moved it.
I've wised up a little (no pun intended) and I search before I download a file – most of the time because searching through 4 Terabytes worth of taken space takes Zen like patience. We all know that with the latest versions of Windows, searches use indexing and caching to iterate through your folders faster and find what you're looking for- not to mention the seamless Windows Explorer integration too. Some of us feel that it's still too slow and we can't really trust Microsoft to do anything right. Wise JetSearch is an alternative for those of us who are looking for a faster second opinion.
WHAT IS IT AND WHAT DOES IT DO
Main Functionality
Wise Jet Search allows you to search for files and folders. It allows wild card input and advanced searches for when you are unsure of the names of the files and folders, you're searching for. It claims to be fast and completely efficient with low impact on CPU and memory usage.
Pros
Allows you to easily search for and find files and folders.
Is fast and lightweight; both in disk space and memory usage
Allows you to perform explorer and file manipulation operations i.e. delete, copy and view properties.
There are portable and non–portable versions to choose from.
Supports a wide array of languages.
Aesthetically pleasing, with a flowing and intuitive user interface.
Provides the user with a chance and a conduit to express feedback and suggestions.
Cons
It's not System tray minimiazable
It's not skinnable
You cannot add or subtract detail tabs on the file view; what you see is what you get.
The application will unpredictably launch the JetSearch Application Helper on app start up and this seems to be uncontrollable.
Discussion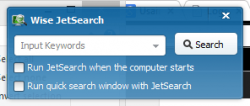 If you're familiar with Wise as developers and software publishers, you should be familiar with their modular utility suite – Wise Care 365. One of the tools it comes with is Jetsearch. Today, we'll be looking at the portable version of Jetsearch.
When downloaded, the application comes packaged in a zip folder, clocking in at 1,24 MB. The contents of this folder include the application's executable, a help application executable, the license text file and a languages folder. The languages folder contains a set of language translation config files. What this means is that you can delete and even add application language translations of your own.
When the application is first run, it lays a config file down and opens up restored as a mini version of itself. It's unintimidating – its controls stand bare and highly accessible. It lacks a menu bar; what follows under its title bar are its main three controls along with an iconized link to Wise Cleaner's download page. I hate adware but when it's done with such subtlety, it can be ignored or even appreciated.
The first control from the left is a drop down menu that allows you to choose what places the app should search through, followed by a search field drop down menu hybrid that allows you to specify search parameters and a button that initiates your search when clicked upon.
The search parameter allows you to specify the file you're looking for along with some wild cards. Not every user is familiar with wild card searches. That's why, I was happy to discover that the application supplies you with easy wild card selection. For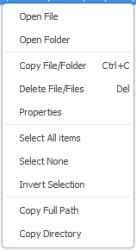 instance, if you're searching for only image file types, you need only click on the drop down arrow next to the search field, select images and then the application will automatically fill up the field with the necessary wild card text.
Searches are incredibly fast. I made dummy files and folders, placed them in some of the most obscure areas and watched as the application unearthed them in record time. I compared it to Windows' search utility and it was like Usain Bolt running up against a sloth. Even with wild card searches, the response is always impressive. Searches go by so fast, that you wont notice that short quick spike in CPU usage.
Even though the file explorer view is rigid and hardly modifiable like most parts of this application; it allows common file operations such as opening a file or folder, deleting, copying, displaying properties, opening its location and copying its directory and path as text.
Conclusion And Download Link
I cannot see a lot of things that are wrong with this application. It is fast and does quick searches with low impact on memory and CPU usage. It delivers as promised. There are a few small annoyances but all of them are easily fixable or highly ignorable. I've come across a great number of search applications but none have ever really inspired me to download and give them a try until this one. And I'm not walking away disappointed. Be sure to check this one out if you need a desktop search application and be sure to read dotTech's review on best free desktop search program to learn of other great — yet free — search programs.
Fine dotTechie, what do you use to find your proverbial lost sock in the virtual clutter of your PC? Comment and share your wisdom with the rest of us.
Price: Free
Version reviewed: 1.45.79
Supported OS: Windows XP/Vista/7/8/8.1

Download size: 1.24 MB
VirusTotal malware scan results: 0/49
Is it portable? Yes
Related Posts